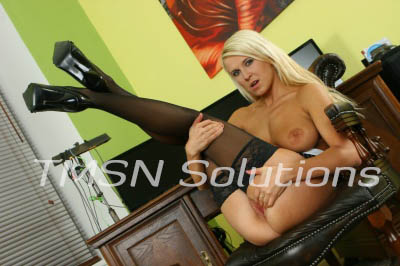 Naomi (844-332-2639) 216
I want you to Worship My Stocking Covered Legs. There is just something exciting about having a man on his knees, waiting for permission, his eyes locked on my long, luscious legs. I give permission, but the orders are clear. "Start at the bottom. Use your mouth only".
With your hands on the floor, you'll bow down low, pressing your lips at the top of my black stiletto heels.
"More," I'll whisper softly, eyes locked on you, mesmerized as I see you debase yourself, bow, obey, while you lick my heels. Juices leak out of my pussy, the scent filling the air. I hear you sniff, inhaling my pleasure, driving you to surrender more to your task.  Your mouth will open as your tongue bathes the leather like you are trying to devour it. You dick bobs, the head brushing against the carpet. You moan like the depraved little slut you are, subject to all my whims. Continue reading "Worship My Stocking Covered Legs" →