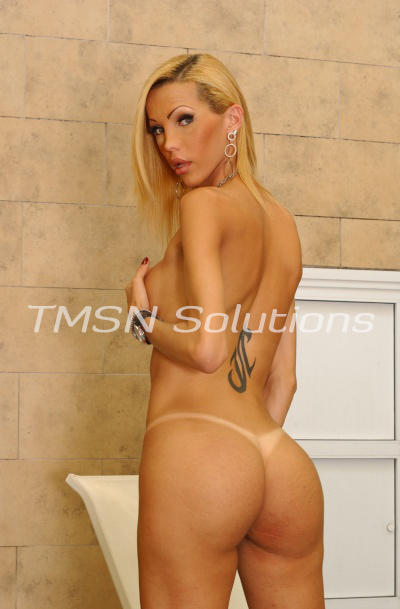 TS Alexus 844-332-2639 EXT 349
As a new trans person, sometimes I get nervous I won't be welcomed in the women's locker room at the gym. My cock is still threatening to unsuspecting women, and my breasts don't seem to soften their feelings toward me. So I'm still stuck waiting until it looks like no one is in the men's locker room and rushing to shower and get out before someone pops in.
I had to get to work after my workout but didn't have time to drive all the way home to shower. So I needed to use the men's locker room, even if someone was already in there. When I knocked, no one answered. If I were quick, maybe things would be okay!
Oh No, Please Don't Touch My Cock
I stripped and shuffled along the tile in my shower slides. The showers weren't stalls like my regular gym. No, this was one ample open space with a few nozzles overhead for several people to shower at once with no privacy. The water spewed out cold and made my nipples rock hard. I squealed and heard a laugh behind me. I turned and saw three sweaty black men looking me up and down like a piece of meat. And as if they hadn't had a meal in weeks.
"Sorry." I meekly said, wishing I could wash myself down the drain. They came closer, and one palmed my ass cheek like a basketball.
"Don't apologize, little Mama. You can make it up to us."
"Oh." I squeaked and tried to pull away from his hands. But that caused me to bump into someone else. Someone whose cock was very, very hard in his sleek basketball shorts. "OH!" They surrounded me, pushing me into the cold water and against the more frigid tile as they shoved down their shorts to stroke their dicks at me. "Please, I just wanted to shower. I'll go."
Late For Work
"We'll shower you." One laughed as he stuffed his dick in my mouth, and another one reached down between my legs to stroke my own cock. "Look at this shemeat." He laughed and dick-slapped my penis with his own. I yelped around the cock in my mouth, but it grew thicker. "She likes it!"
"Please, don't touch my cock." I tried to cover myself, but they grabbed my hands, yanked them behind my back, and pulled me over to where they could bend me over one of the benches. They all laughed now, and I knew I would be late for work.
TS Alexus 844-332-2639 EXT 349
https://phonesexcandy.com/candygirl/alexus
https://phonesexcandy.com/tlc/alexus