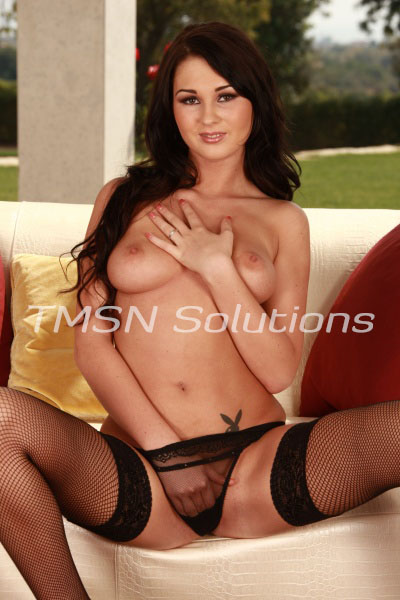 Kayla Cumsalot 1844-33-CANDY ext 357
When he said he craved a submissive brat, I'm unsure if he knew exactly what he was asking for. I'm a good girl most of the time. The other percent of the time, while I'm misbehaving, I simply give him precisely what he asked for.
No one wants to be "Yes, Sir-ed" all the time. How boring would that be? Even if he doesn't admit it, he loves when I keep him on his toes. For example, I'm not allowed to play with my pussy without permission. Normally, this is an easy rule to abide by; he keeps me pleased enough to respect this rule. But always being obedient, like I said, would be boring.
My Dom had an incredibly important business meeting at work yesterday. I figured this would be the perfect opportunity to "Bratten things up." So, dressed only in fishnet thigh highs, his favorite pair of heels, and a tiny black thong he'd bought me, I lay in the center of his bed and took a selfie with my hand in said thong. I sent it to him with the caption, "I'm bored. Dare me to disobey you?"
His Submissive Brat
After hitting send, I watched the screen. My fingers carefully petted my bald pussy. My body tensed in anticipation when the tiny dots ran across the screen, signaling he was typing. Would he think I was kidding? Would he be mad?
"I wouldn't suggest that, little girl." I snickered at the screen and circled my middled finger around my clit. Then, spreading my legs wide, I snapped another selfie. I pursed my lips together this time and looked at the camera through my lashes. At the very bottom of the photo, you could see my fingers clearly pushing knuckles deep into my pussy.
"But there's no one here to stop me, so?"  I checked the time and knew his very important meeting should have just started ten minutes ago. My pussy throbbed as I baited him, knowing full well he'd definitely punish me when he arrived home.
I watched the screen and waited. I waited and watched the screen. He'd read my message but hadn't responded. OH, I was in trouble. My pussy contracted and soaked my fingers as I flirted with my dangerous Daddy Dom.  Thirty-five minutes later, his text response came through.
"I'll be home in an hour, be prepared for your punishment, Brat." I squealed a giggle as I read his words. If I was going to be punished anyhow, then I was going to make it worth it. I tossed the phone on his pillow, and instead of just teasing my needy little pussy, I gave it just what it wanted! I came so hard, writhing in his bed to the curious thoughts of how he'd punish me.
Find Part Two On Sinfully!
Kayla Cumsalot 1844-33-CANDY ext 357
https://phonesexcandy.com/candygirl/kayla
https://phonesexcandy.com/tlc/kayla
**Thank You, Zman for inspiring me