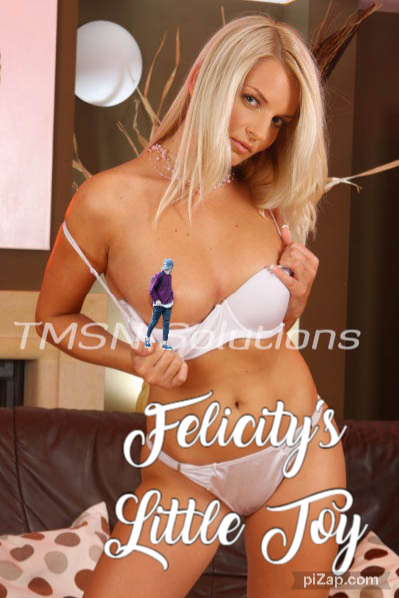 Mama Felicity 1844-332-2639 Ext 270
Have you met my little toy? He's really the cutest thing. Dennis chose to be shrunken down to the size of an action figure, and my family adopted him. Together, we all take care of him and love him like a pet. He's always getting into trouble and finding himself in messes she shouldn't be in.
Like how last night, I was cooking dinner, and Dennis was playing on the counter. He climbed into the bag of shredded cheese and tossed out little bits of cheese to help make the cheesy garlic bread. Of course, this isn't really the help I would have asked him for, but he just takes initiative and tries on his own. I had to fish him out of the cheese bag and dust his little body off.
Felicity's Little Toy
"Dennis, stay out of trouble." I giggled as I placed him back on the counter and turned to stir the pasta. I heard a big SPLAT and looked back to see what he'd done now. My silly little toy had fallen into the sauce! He was red and drippy when he stood up in the middle of the bowl and shrugged at me.
I rolled my eyes and carefully plucked him up out of the saucy bowl. Gently, I laid him in my palm and told him to strip naked so I could bathe him. Right in the middle of making dinner, my tiny little toy got naked in my palm, and I brought him over to the sink. As I turned the water on to just a trickle so he could stand on my palm to shower, I noticed his hard-on.
Dennis just loves causing mischief and getting scolded. As he rubbed sauce out of his hair, I used the tip of my index finger to rub his little cock. He groaned and humped against me till his little cum load was draining right off my palm with the rest of the sauce he was no longer coated in.
Mama Felicity 1844-332-2639 Ext 270
https://phonesexcandy.com/felicity