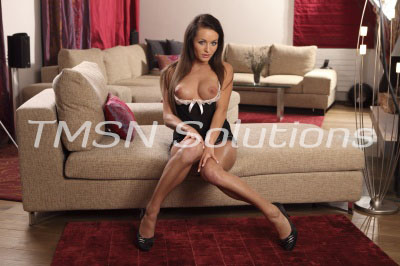 Sinful Serinda 844-33-CANDY (844-332-2639), ext. 394
He loves coming home to me for his spankings. He'd come in, exhausted and needing to relax and there I'd be, waiting for him, flog in hand. No words would be exchanged as he'd obediently move to my side, undressing as he walked.
Pushing him to his knees I would slowly circle his form, taking in the sight of his bare, pristine skin. I like to start standing behind him, striking down across his shoulders one after another, and slowly pulling the tassels off of him, the suede fingers tickling his nipples as I pull. He gasps with each swipe in pleasure, but he tries his best to hide his enjoyment.
Soon I move to his back, first taking my nails across him, causing small welts to rise in his flesh, goosebumps raising on his side and arms. More forceful now I begin to whip him, sometimes straight down his back, others in figure eight, circling across his shoulders down to his hips. With each strike, he shudders and thanks me, as he should. Between swings I like to occasionally run my fingernails across his skin again, just to switch up the sensation. He stares at the floor, gasping and moaning for me.
After I feel he's suffered in waiting enough I gently stand him up and bend him over the bed, exposing his bare ass to me. I start with a loving message across his ass, just feeling his skin and his body contort under my touch. "What does my little spanking slut want? Tell Miss." Through a quivering voice he pleads with me to go on. I comply, swinging my arm forcefully, whipping his ass and down to his thighs. His ass starts to turn a bright red as the suede fingers cascade across him over and over again. He gasps with each strike, his hips grinding in excitement, he can't hide how much this arouses him.
I'm unable to contain myself,  as I roll him over, exposing his very swollen dripping cock. I gently swing my flog down between his legs and run the tassels across his throbbing cock and balls, slowly pulling up to his stomach. He grinds upward into the air but I resist the urge to grab him and stroke him. I continue, whipping across his chest and nipples, alternating back down to his groin. He loves coming home to me for his spankings. He'll never forget who he belongs to.
Would you like to belong to me?
Serinda
844-33-CANDY
(844-332-2639)
ext 394
https://www.sinfullysexyphonesex.com/serinda/