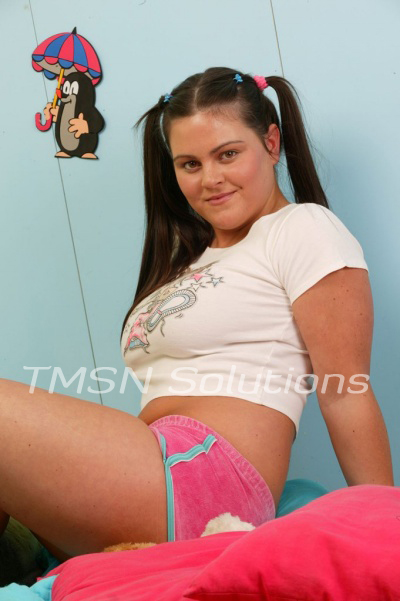 By Krysta 844-332-2639 Ext. 410
Some people say too much is never enough and others say you can't have too much of a good thing. That's kind of how I like to live my life. Always pushing the boundaries until I find too much. Daddy bought me a new little toy that is so much fun to play with.
It goes up inside of me and then he can control it whenever he likes. He told me to wear it out for our day adventure and I was happy to do just that. With it nestled inside of my tight pussy, each step made me tingle. Even before he turned it on!
Too Much To Handle Phonesex
We walked through an outdoor farmer's market. Sampling the foods and trying out the lotions and things people were selling. The day was comfortably cool and the toy in my pussy felt as if it kept getting bigger and bigger as I waited for Daddy to turn it on!
Daddy reminded me how even if it felt cool, I still needed to be hydrated. He bought me a tall ice water, then a smoothy, and even a juice after that. My bladder started to feel really full and I looked up at him. "I have to potty" I whispered.
"Not yet." He grinned and passed me a big ice coffee with a straw. I sipped at it even though my poor bladder said no more! My pussy tingled and my knees rubbed together, I really really had to go! That's when Daddy turned on the vibrating toy lodged in my pussy. I squeaked loudly and snapped my thighs together. It was difficult to do the potty dance while that toy was going crazy inside of me, but I felt like I couldn't potty even if Daddy gave me permission!
I think I had just found TOO MUCH!
Krysta 844-332-2639 Ext. 410
https://phonesexcandy.com/krysta/