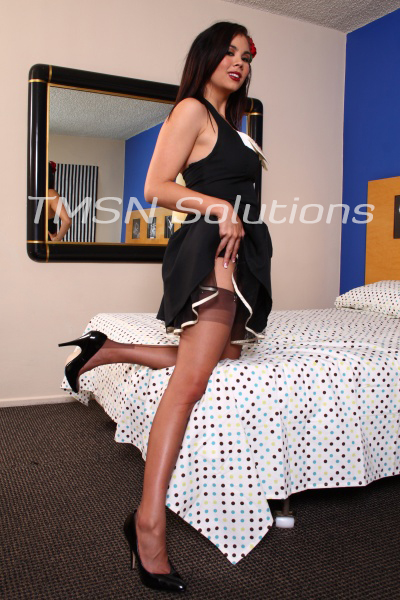 Gianna 844-332-2639 ext 355
Aaron's friend Sylvie is a therapist that specializes in Gender Therapy. She works with transgender clients and helps them deal with the difficulties of transitioning. Aaron has secret feminization fantasies that he has been hiding from his wife. He's been seeing Sylvie on a regular basis to work through his inability to confess these feelings to his wife. Sylvie makes him crossdress as a woman for these therapy sessions because she wants Aaron to become more comfortable with his ultimate goal of becoming a woman.
At the end of Aaron's feminization therapy session, Sylvie suggested that he try going out in public as his female alter ego Kathy. 
"Come on Aaron, just go to lunch with me and another friend. I believe that it'll help you get even closer to feeling comfortable with your decision to become a woman permanently. You look so beautiful dressed up like this. It's a shame that you hide your female self from the world!" Aaron knew she was right. He agreed to meet her for lunch the next day. Sylvie reminded him to look his best. "I want to see you in a full face of make-up with your hair done. Wear your prettiest dress, pantyhose, and high heels. You need to dress to impress for Kathy's first public outing!"
Thankfully, Aaron's wife was out working for most of the day, which gave him plenty of time to look his best. He had to admit that he was excited! It was his first time going out as his female self! Most of his therapy sessions have been about issues with his wife. She is close-minded and doesn't like change. Home life has become more stressful as his desire to become a woman has intensified over time.
Aaron knew that his wife would never approve of him becoming Kathy while they were still married. 
Aaron reminded himself that this day was all about celebrating Kathy. He knew that he should suppress his worries and just focus on enjoying a day out with the girls. Kathy looked at herself in the mirror before she left the house. She felt absolutely gorgeous and was already dreading the fact that she'd have to come home after lunch and change back to Aaron.
Kathy walked to the French restaurant that Sylvie made reservations for. She seemed so happy to see Kathy strutting down the sidewalk looking fully passable as a woman. Kathy sat down at the table and asked Sylvie where her friend was. "Oh, she's on her way. She got caught up at work and will be here soon!"
Kathy's heart sank as she looked up and saw her wife approaching the table! Sylvie got up and hugged her. This was a setup to expose Aaron's feminization desires to his wife!
Sylvie gave Kathy a devious smile and winked at her. She mouthed the words "don't worry" to Kathy before she introduced them. Thank goodness Aaron passed so well or else his wife would be so upset! "Thank you for coming to lunch with us! This is Kathy. She's one of my clients and is having trouble with her female roommate. I thought it would be good to invite her out for some much-needed girl time!"
Sylvie looked at Kathy and asked her to explain more about the issues she was having. Kathy knew that she has to be very careful in explaining their differences without revealing the truth. She told the girls about how she feels like she has to walk on eggshells around her roommate. "She doesn't approve of the way I dress or my true desires to be more feminine. We just don't see eye to eye on anything. It's so stressful having to live with her! I feel like I can't be my true self."
The wife listens patiently and says "I don't see why you have to stay living with her! I think you should move out!"
It's clear that she's oblivious to the fact that Kathy is talking about her. Sylvie turned to the wife and confessed that Kathy was actually a transgender client. "She was worried about passing as a woman so I invited her to lunch with us to prove that she could do it!" The wife is shocked and says "Wow Kathy! You make a beautiful woman! You pass so well because I had no idea!"
Sylvie turned to the wife and asked "What would you do if you found out that your husband was secretly crossdressing as a woman?" The wife scoffed and said "MY husband?! Well… I can't imagine that! I can't imagine him being able to present himself as a woman at all!" Sylvie and the wife laughed at the idea of Aaron crossdressing. Kathy nervously sat there sweating because this conversation was getting so intense!
Sylvie told the wife that Kathy should move in with them since they had a spare room. The wife blushed because she didn't want to admit that she was nervous about hosting a woman prettier than her while her husband was around. 
The wife worried about her husband catching feelings if someone as gorgeous as Kathy was constantly within his reach. She politely lied and said that they always have family visiting and using the spare room so she didn't think she could agree to having a roommate. Kathy knew this was a lie. They rarely had people visit. As they finished their lunch, Sylvie turned to Kathy and said "Well, Aaron… how do you feel knowing that your wife is more understanding than you thought?" His wife gasped as all the color drained from her face. There her husband was, sitting in front of her, as a woman!
Gianna 844-332-2639 ext 355
My Profiles