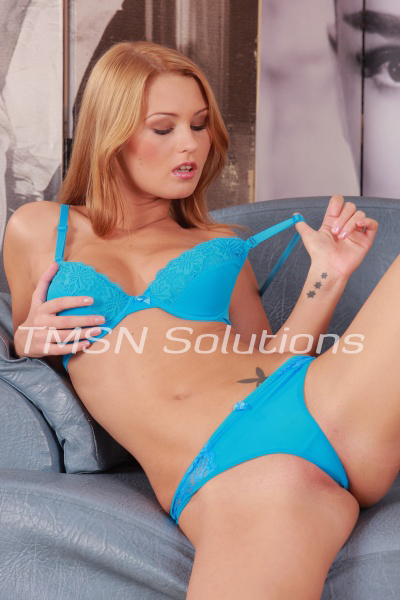 Kayla Cumsalot 1844-33-CANDY ext 357
I met the sweetest little cumslut tonight! We'd never played before, but she saw my Twitter post about someone getting locked up in chastity if their football team bit the dust (They didn't, by the way, so that boy is free.) She told me that she had played with chastity before but never for much longer than two weeks. Lockobter is right around the corner, and I'm not sure if she was looking for help or just looking to chat, but we ended the call with me as her keyholder for lockoter (and no-nut-November because only real men deserve to cum!)
I'm a kind Goddess, however, so when I found out my sweet new sissy faggot hadn't cum in six days, I knew it was only fair to drain her sacks with a ruined orgasm before denying her for the next two months and five days. That's right, Emily is starting early 'cus she's a go-getter!
Emily Gets Ruined
We slipped in her buttplug, which allowed me to control how she vibed. I swirled my finger around the app as we chatted, and she told me about herself. Getting to know your cumbuckets is so essential! Knowing their triggers just helps push them into that sissy space. The space where denial becomes so heavy they can focus on nothing except being an obedient fuck doll! After twenty minutes, Sweet Emily was breathy and begging for cock in her mouth!
After thirty minutes of teasing, Emily pleaded never to be allowed to cum like a boy again! To never be allowed to squirt until she's had real cock between her lips again. I love a motivated girl. I had warned Em that while I love the ache of her denial, I just LOVE cum! Wanting to please her new Goddess, she willingly unlocked her cage, and together, we teased her fingers up and down her thick sissy clit. Mmm, I was getting so wet listening to her moan.
I tried to have her count strokes until I knew she was close enough to ruin her orgasm—a few strokes and release. A few more and let go. She was doing well until she whimpered. She was close, and I told her to let go. That's when she spilled her little sissy seed all over for me—delightfully ruined to please Goddess Kayla!
Are you going to give me the key to your cage next month?
Kayla Cumsalot 1844-33-CANDY ext 357