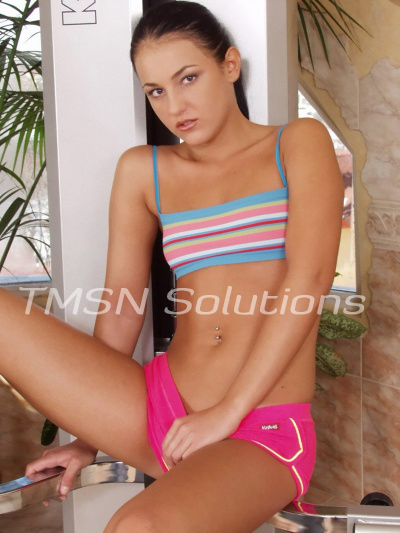 Avery  1-844-332-2639 ext. 228
My sweet daddy called to say that he wanted to take me out on a special date. Of course, he meticulously prepared everything, including the outfit he wanted me to wear.
Three boxes, labeled with numbers one through three arrived by special delivery. By a special delivery guy. This was a fun surprise. He came in and handed me the boxes. Then said, "Wait here. Don't open any of the boxes. I'm going to go run you a nice bath" walking off in the exact direction of the bathroom. He clearly had been given very specific instructions.
After about ten minutes he came back and told me to open box #1. Inside was a luxurious silk robe and a huge soft towel. He told me to undress and put the robe on. Then he just stood there. I shrugged and undressed right in front of him. He led me to the bathroom, helped me take my robe off and held my hand as I got into the hot, sudsy bathwater. I sat down and he knelt next to the tub, beginning to wash me with just his hands. 
He cleaned every spot and every crevice. Lingering perfectly in just the right places. He remained professional and business-like, even as moans of pleasure escaped from my mouth. He gently washed and rinsed my hair and then said, "Please stand up so that I may dry you off". My skin was flushed with warmth and excitement as he tenderly dried my body. He helped me put on my robe and said to go sit on the bed and he'd be right back. He returned with box #2 and a glass of wine.
I opened the box and found a gorgeous sky blue cashmere sweater and a little leather skirt. He told me I was not allowed to put on any panties, so I didn't. We went back to the living room and he let me open box #3, which was a sexy pair of red bottomed high heels, they matched the skirt. He handed me an envelope, gathered the empty boxes and left. I didn't even know his name.
When I opened the envelope, it said simply said, "I'll be there at 7. Love, Daddy". In the kitchen, I found the bottle of wine, sitting on a silver tray with cheese and crackers. I was happy for a snack and knew I needed my energy for what daddy had in store for me tonight. I turned on some music and relaxed while I waited to see what daddy had planned for me.
He arrived at exactly 6:59pm. Daddy looked hot, as usual, and smelled even better. The man makes me wet every time. He said, "Hi sweetie. You look magnificent". He kissed me on the cheek and said, "Let's go!". We entered his limo and began our ride. As we approached our destination, I realized we were going to a drive in movie. In a limo! But, it didn't take long for me to realize that we were the only ones there.
He had rented the entire place just for us. He had brought a picnic basket and when he opened it, it was full of fuck toys. Yes, you heard me correctly. My daddy is the best fuck. He said, "We're going to try out every one of these toys tonight". I said, "Will we be seeing a movie?" He grinned and said, "There will be a movie playing, but I'm not sure how much of it we will see. Perhaps we should make our own video tonight?". Then the man who had delivered the packages rolled down the window, he was the limo driver, holding a video camera. The best Daddy daughter porn was made that night featuring a real life daddy and daughter. 
I will never stop fucking my daddy. He made me and he owns my body. Always.
Avery xo
1-844-332-2639 ext. 228
https://phonesexcandy.com/sinfully/avery/
https://phonesexcandy.com/sinfully/avery/
Want to read more of my hot blogs?
https://sinfullysexyphonesex.com/author/avery/
https://phonesexcandy.com/author/avery/
https://sinfullysexyphonesex.com/author/avery/
https://sinfullysexyphonesex.com/author/avery/