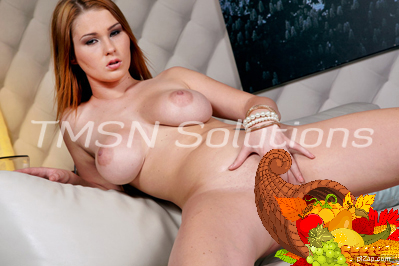 Kayla 1844-332-2639 Ext 357
The cornucopia symbolizes fruitful abundance and nourishment. As a symbol of Thanksgiving and a way to share our bountiful pleasures with those we hold closest. I can't think of a better replacement for the cornucopia this year on your dinner table than this tight, teen pussy.
I promise to be an abundant supply of good things and pleasures that await you when you spread me open and dig in.
Cornucopia Of Pleasure
Between my puffy, pink lips, you'll find a warm, delicious cream waiting for your tongue. Not all men take great pleasure in devouring a Goddess, but those who do surely will have found the most delicious waters between my thighs. Tuck a placemat under my ass and scoot me to the head of the table.
I'm a meal fit for a King, and you, Sir, look famished.
However, don't just think that I'm a greedy girl who will lie back and let you drain my juices from me. No, Sir. Just like the cornucopia, I like to give back. When I've cum too many times on your tongue to remember my own name, slink me off the table and stuff this wet, swollen pussy with your hard cock.
Kayla 1844-332-2639 Ext 357
https://phonesexcandy.com/kayla