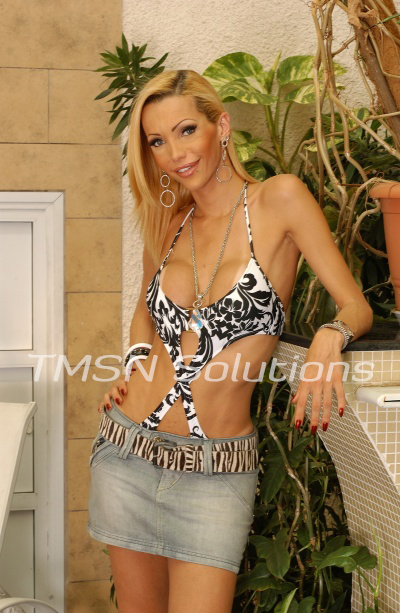 TS Alexus 844-332-2639 EXT 349
I'm hosting a party, an educational type of party. See, I have a ton of young female friends who are curious about the male form and how it all…works. Sure, I could show them with my beautiful body and allow them to play with my cock, but I think it will be so much more fun to let them experiment on you. So I've asked them all to come over in their sexiest dresses. Don't worry about what you'll wear; you are going to be completely naked.
I plan to use you as an example and your cum as the party favor. That means everyone gets a load. I'll expect you to be quiet and obedient, so I'm going to fit this ball gag into your mouth.
You're The Party Favor
It's cute how nervous you are, yet your cock is standing at full attention. Of course, I'll be right behind you the whole time. We'll stand in the center of my living room as my sexy girlfriends surround us on the couches. At least six beautiful ladies are all staring at your naked body and your twitching cock.
Feel my nails running up and down your back as I invite the girls up one by one. I whisper in your ear to spread your legs apart. Allow the ladies to tease their fingers under your balls. They are curious, baby. Give them access to explore how your cock feels in their hands, in their mouths.
Listen to them giggle as you groan and precum drips from your tip. Do you remember when I said your cum would be the party favor? That means you'll need to let each of the six ladies make you cum. However, they choose, and we will not end the party until everyone gets their favor.
TS Alexus 844-332-2639 EXT 349
https://phonesexcandy.com/candygirl/alexus/