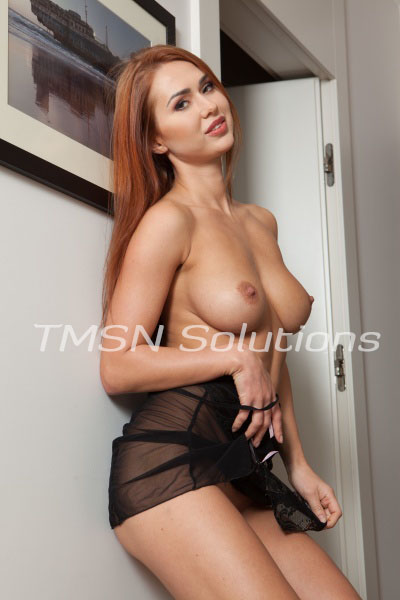 ~Idun~ 844-332-2639 ext 369
You enter the underground strip club run by the mafia. My boss is a beautiful and strong woman named Staci who can beat the living daylights out of any guy that gets out of line. You're a few drinks in when you watch me get on the stripper pole. I'm enjoying myself as I shed my lingerie off until I'm left only wearing my tiny black thong.
Since Staci is the boss, she can do whatever the fuck she wants. She walks on stage during my set wearing a huge strap-on! She knows how crazy the audience gets when she fucks her strippers on stage. I feel her grab my hair as she shoves her strap-on deep in my pussy.
She's asking me questions but I can barely hear her over the loud club music. This angers her and makes her fuck me in the ass super hard. She covers my mouth with her hand and forces me to swallow this mysterious pill that makes me pass out. I wake up to her face fucking my mouth with the strap-on.
Once she sees that I'm awake, she tells me to get back on the stripper pole and shake my ass until I get a new victim for the champagne room.
I see you in the audience waving a wad of cash in the air. You look like you've had way too many drinks which makes you the perfect victim. I waltz up and tease your cock by twerking in your face while I lean forward and stroke your cock through your pants. You're hard and desperate enough to follow me to the champagne room. I lead you there after Staci gives me the nod of approval.
You think you're going to get lucky and fuck me. I tease you by daring you to suck candy out of my pussy.
I place 5 "candy" tablets inside my pussy for you to dig out with your tongue. You eagerly tongue fuck me until all 5 pieces are down your throat. The candy is actually viagra so you're going to stay hard for a very long time.
You're so hard that you tell me that you want to jerk off. I slap you across the face, telling you that you're not allowed to cum yet. This makes you mad so you get rough with me by snatching me up by my hair and demanding that I jerk you off.
Staci has been secretly hiding in the champagne room the whole time and sees this. No one fucks with any stripper under her watch.
She slides in your lap and socks you in the face. Your eye swells up as she repeatedly punches and slaps you until you're completely knocked out. Your face is all swollen and your eye is bruised and discolored. She tells me to help her strip you completely naked. We look down at your swollen fucked up face and hard cock that's sticking up straight.
She tells me to ride your face while she puts her strap-on back on. We laugh as Staci shoves the strap-on inside of my pussy, joking about you wish you were awake to see this. The hard strap-on hits and smacks your bruised face as she fucks me. Staci brings me to another orgasm, drenching your face in my cum.
She calls in the other strippers and tells them to use their strap-ons to fuck my ass and mouth while she continues drilling my pussy.
Some of the strippers even scissor each other's wet pussies with your cock in the middle. Staci slips your wallet out and tosses all of your money in the air while the strippers go buck wild on you. They use your hard cock to rub their clits as they grind and press into each other. Once Staci has decided that everyone has had their fill, she pulls you up by your hair and drags your body into the back alley behind the club.
Staci tells each stripper to line up and use you as a toilet.
One by one, each girl relieves herself until your entire body is coated with piddle. Staci grabs your matted hair and slams your body against the brick wall. You regain consciousness as the strippers surround you. All of us let you have it. We all slap, punch and kick you until you're covered in welts and bruises. You're too sore to walk properly once we're done. Staci laughs and tells you to act right the next time you're in the champagne room or else you're going to get another beat down!
This blog was co-written by a wonderful client that loves getting his ass kicked! 
~Idun~ 844-332-2639 ext 369
https://phonesexcandy.com/idun/