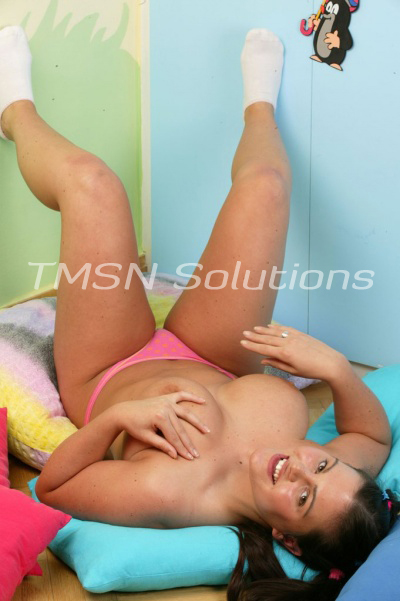 Krysta 844-332-2639 Ext. 410
I was such a good girl all weekend long that Daddy said he would take me to the salon for a pedicure. I wuv it when he pampers me like the spoiled little girl I am. But, I should have known he was up to something when he said my outfit was already picked out for me.
He gave me a small, sleeveless sundress to wear, no panties. That seemed uber risky, considering the nail tech would be under me for the whole pedicure—eye to eye with my princess bits. But what Daddy says goes! So I got ready and twisted my hair up how Daddy likes, then he waggled a pink egg thing at me. "Spread your legs."
Remote Controlled Pedicure
Daddy pushed that egg thing right up between my pussy lips and shoved it deep till it nestled in right where he wanted. Then he showed me his phone that would act as the remote. His fingers whizzed up and down over the screen, and to my shock, the egg inside of me vibrated to match. Finally, he shut it off again and said, "This pedicure should be VERY relaxing."
The nice man led me to the salon to a chair that looked like a throne with soapy bubbles at the foot. I sat then he grabbed my ankle to put my foot in the water. I held my knees closed tight, hoping he wouldn't get a look at my naughty girl parts. Instead, he was talking away to me when Daddy used that remote to make me jump.
"Oh, it tickles?" the man doing my pedicure asked. I nodded, not knowing what else to say. My cheeks were red when I looked at Daddy, who sat on the other side of the salon with his phone in his hand. This was gonna get tricky!
Krysta 844-332-2639 Ext. 410
https://phonesexcandy.com/krysta/
https://phonesexcandy.com/sinfully/krysta/