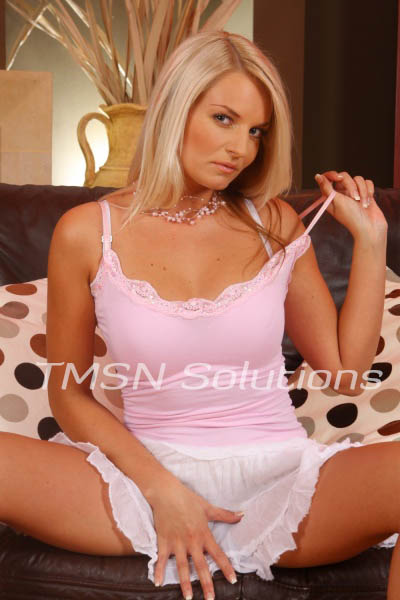 Phonesex with Felicity 1844-332-2639 x 270
Sitting in front of his computer at work, dick in hand, he stroked. Hig blue balls tensing; he'd been edging for hours now. The pornstar playing on the screen looked nothing like his little wife at home. She was filthy; precum smeared all over her pretty face. His wife would never do something like that. She was too proper to be the cum slut he desired.
Hunched forward as he stroked himself closer and closer to orgasm. A groan shifted out of his chest; just a few more strokes and he'd feel the release he was craving. Instead of achieving the orgasm, he'd hoped for, his proper wife breezed into his office door.
Pretty little Blue Balls for Busting
He let go of his cock in shock of seeing her here at the office. She never stopped by, and why today, of all days? His hands slapped at the PC, trying to shut off the moaning pornography streaming through the system. Her pretty blue eyes got wide as she took in the naughty scene before her.
"Honey!" He coughed and began to shove his precum-oozing dick back into his pants. "What are you doing here?"
She lifted a lunch pail for him to see. "I brought your lunch. You forgot it on the counter this morning." She threw the pail at his desk as she stormed over to him, then grabbed the hard-on he was trying to hide. "What the hell are you doing? Jacking off at work? What if it was your Boss that had walked in instead of me?" Her hand held tight on his cock, and she slapped the side of his face.
"You weren't even thinking, were you?" He mumbled a reply to her question. He was stunned by the slap. She'd never so much as cursed at him, and how was her tiny hand so tight on his cock? He had been so close to cumming; her touch felt divine. Her naughty husband began to hump his dick in her fist.
Denial
"Oh, no, you don't." She slapped him again and let go of his cock to slap his pounding blue balls. He grunted, and she popped them again with her open hand. "You won't be cumming today." There was a spark in her eyes he'd never seen before. It scared him as much as it was turning him on. "Kneel for me." She commanded, grabbing his blue balls and twisting them until he moved.
He slid out of his office chair and to the floor. On his knees, practically drooling with the need to cum. She swung her high-heeled foot back and kicked him. Right between the knees where his throbbing cock bobbed. He folded forward, groaning and grabbing his abused balls.
His pretty wife straightened her hair and smiled down at him. "No more touching your cock until you get home. Have a good rest of your day." She bent to kiss the top of his head and left the office.
Phonesex with Felicity 1844-332-2639 x 270
https://phonesexcandy.com/candygirl/felicity/
https://phonesexcandy.com/tlc.felicity/