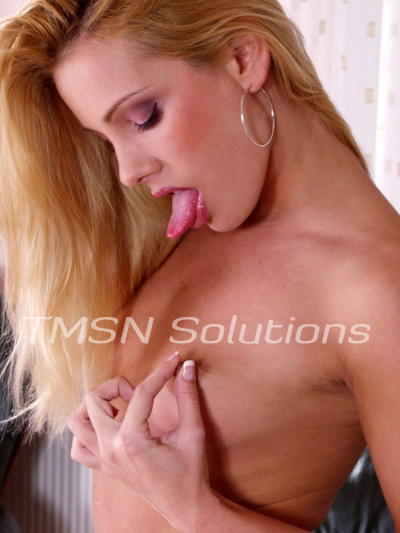 My cute little nipple. They are always hard. No matter what I wear or what the weather is. It doesn't take a cold day or a hot man to make them perk up. They are always pebbled and ready to play.
Because they stay so hard, I just love when someone plays with them. Not a gentle touch of a finger either, I want them worked!
Pluck My Nipple
Pinch and pluck these little rocks. They are so cute and tempting, right? When you suck on my nipples, I want to feel your teeth grazing my tender flesh. You can bite me, I won't mind. I like it when you mack it hurt. It actually makes my pussy soaked when you cause me a flash of pain.
Did you buy me nipple clamps? You know just how much I love those! Ones with alligator teeth or the magnet ones. The pretty clamps that have jewels strung from them or the even sexier ones that are connected by delicate chains to other parts of my body.
You can clamp my perky nipples and dress them any way you wish. As long as you promise to keep pinching and squeezing them.
xXx Francie xXx
844-332-2639 x 208
https://phonesexcandy.com/candygirl/francie/
https://sinfullyphonesex.com/francie/