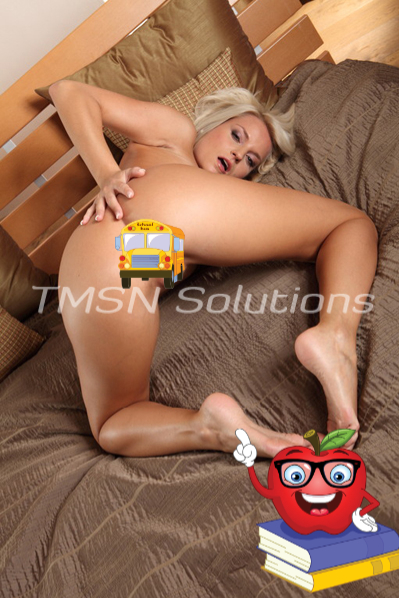 Mama Felicity 1844-332-2639 Ext 207
If you told me that my son's back-to-school parent teacher conference would end with me bent over Mr. Michaels's desk, surely I would have told you that you were insane. I know I'm a naughty Mommy, but generally, in professional settings, I can keep myself in check. That was the plan until I was called into the classroom and came face to face with a God!
Mr. Michaels is one of god's gifts to women. He is well over six foot with broad shoulders and bright blue eyes. Salt and pepper sprinkled at his temples and a sharp jaw. Not to mention, he had his sleeve rolled up to his elbows, showing off such sexy forearms.
Parent Teacher Conference
I was flustered from the moment I sat down. I couldn't focus on the curriculum because Mr. Michaels was sitting on the edge of his desk, and I was on one of those toddler chairs. Making the impressive bulge in his slacks eye level. He caught me staring at his crotch and asked if I needed to be punished. I leaned back in the too-small chair and opened my knees, letting him see up my skirt.
Of course, I didn't have panties on, and as soon as he saw my wet pussy lips, the meeting was over. He pulled me up out of the tiny chair and started kissing me passionately. His big hands worked my clothing off and then bent me over his desk as he worked his cock out of his pants.
"The homework load is extra heavy this year." He growled as he spanked my ass and traced his cock down my slit.
"I can handle it, Teacher," I said over my shoulder while grinding back against his cock. He slammed himself into me and reached around to clamp a hand over my mouth. He pounded his cock in and out of me, pulling my head back to arch my body for his pleasure.
"Here comes your first assignment." He gritted his teeth and pumped his load into my pussy.
Mama Felicity 1844-332-2639 Ext 207
https://phonesexcandy.com/felicity