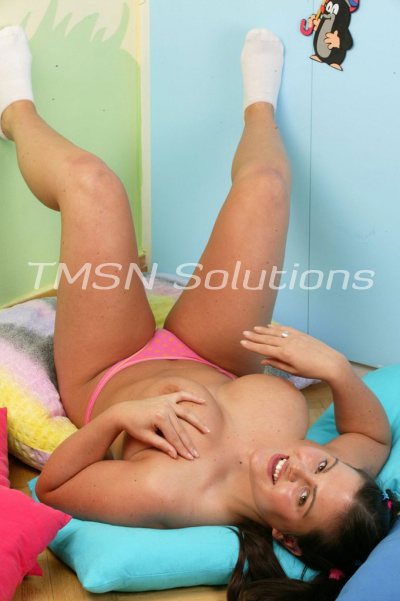 Krysta 844-332-2639 Ext. 410
My sugar daddy picked me up in his sexy, expensive car from the gym and took me for a Sunday drive. I dropped into the passenger seat and stuffed my duffle bag on the floor in front of me. It took up so much space that I pulled my knees up and started to untie my sneakers. Daddy was already pulling away from the curb when he saw what I was doing. "Oh, Krysta, what are you doing with those pretty feet, baby?"
Daddy is obsessed with my feet! They are how I get him to spend all his money on me. I slipped one stinky foot out of my gym sneaker and smirked. "There's just no room on the floor." I shrugged like it wasn't a big deal, but I saw Daddy rub his hand over his crotch. I knew my feet were already beginning to drive him wild. I removed my second shoe and leaned back into the seat, propping my sweaty gym sock-covered feet on his fancy dash.
Lovey-Dovey Foot Drive
"Look at those feet!" Daddy groaned. I wiggled my toes together and reminded him to watch the road. I knew he had just paid for this super expensive vacation for two of my friends and me, but this concert was coming up, and I really wanted front-row tickets. Of course, in order for him to agree, I'd have to really work him up.
I turned in my seat to lean against the door and put my feet on either side of the gear shift in the center console. Daddy swerved the car a little as he watched, and I scolded him. Thankfully, we pulled up to a red light, and I knew it was the perfect time to tempt him. "Daddy, I wanna go to that concert next month, you know?"
The soles of my feet rubbed over the top of the gear shift; then, I started to pump my arches up and down the knob. "Baby, you just went on that vacation that was three times your budget. Daddy can't afford to let you go to that concert."
My face scrunched up, and I opened my legs to let my left foot rub up and down his thigh. Nudging his rock-hard cock with my little toes. He groaned and gripped my sweaty foot, pressing it down again his shaft. "Please, Daddy. I'll give you a lovey-dovey foot job?" My sickly sweet voice made him quiver as the light turned green, and he again had to focus on the road.
"You will, baby?" I moved my foot over his cock and could feel a damp spot appearing on his slacks. He was already so close.
"Only if I can go to the concert with two friends."
Krysta 844-332-2639 Ext. 410
https://phonesexcandy.com/krysta/