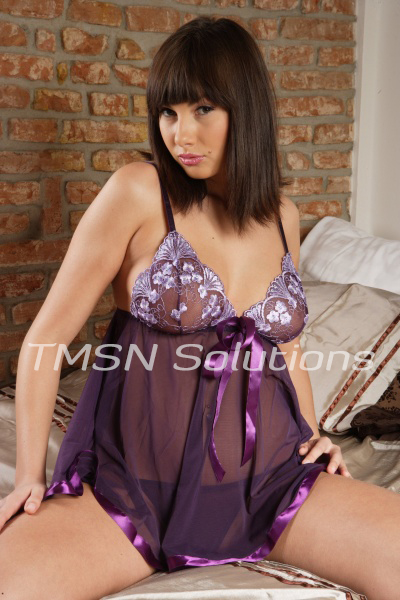 *LUCY* 844-332-2639 xxx- 221
You already know that I love fucking, but what you might not know about me is that I love kinky tease and denial fun almost just as much. You see, there are some guys that are so pathetic to me that the only thing I want to do to or with them is tease them. Oh, and don't forget the denial. That's my absolute favorite part. Watching you squirm around begging me to cum makes for an entertaining Friday night for me.
Kinky Tease And Denial
If you're a good boy and you haven't done anything bad, don't worry. You won't get to find out what it feels like to be teased and denied relentlessly by me. I save that kind of abuse for guys who really deserve it. Teasing and making a man think he is going to get exactly what he wants from me when I have no intention of giving it up is my very favorite pastime.
Do you want to hear more? If you answered yes then you're most likely the kind of idiot who deserves tease and denial phone sex. Yes, I called you an idiot, but you already know that you are. It's not some kind of spoiler alert or news flash. You've probably fucked up really big in some way and you're going to call me and tell me why tease and denial is what you deserve.
Maybe you cheated on your wife. Or you touched a girl who didn't want you to. You might have lied to your best friend about having the hots for his wife and jerking off to her pictures. Those are just a few of the things that will earn a loser like you a denied orgasm. Do you think you qualify? We both know you do, or you wouldn't even be reading this blog. I'll be waiting for you tonight so come and prove to me why I should let you cum.
Lucy xx
Come find me at – 844-332-2639 xxx- 221
https://phonesexcandy.com/milf-lucy/
https://phonesexcandy.com/tlc/lucy/