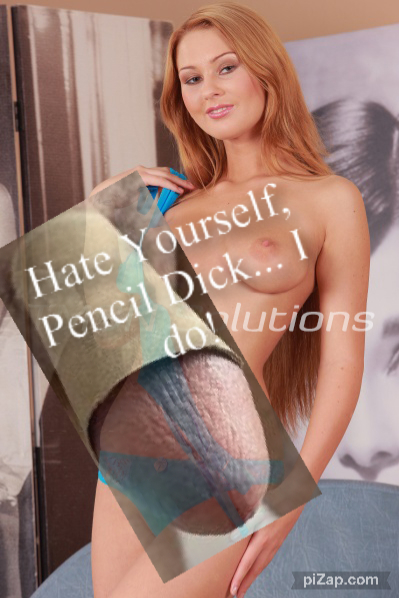 Kayla 1844-332-2639 Ext 357
You're an ugly, fat, porn-addicted lil dick loser. I hate you, and you should hate yourself. You are just a worthless piece of scummy waste. No one loves you, and no one ever will. There's no hope for you. Think about it!
 All you think about is jerking your lil dick off to girls (and guys) that you know are better than you. This means any and everyone is who you'll be pumping it to because every single person who is breathing is better than you. I fucking hate you, pencil-dick loser!
Hate Yourself – A Blog By An Idiot
Your tiny dick only gets hard for porn and phone sex humiliation. Humiliation, which I love to give. Maybe some girls feel bad for reminding you that your dick is too thin and always slips out when you get the chance to have sex, but I don't. In fact, I love telling you how fucking dumb you are and that you're an idiot, loser.
You eat ass and get fat while looking ugly to the whole fucking world. All women hate to see you. We all hate when you look at us. If we could make you disappear, we would, but instead, we'll just expose you for the pathetic loser that you are!!
While abusing the fuck out of your wallet until your broke ass has nothing left. You know the only reason we tolerate you is because of your wallet. As you spend all your money on porn and phone sex, don't forget to go to work and make our money. If you get fired for being a chronic masturbator, you'll have to resort to sucking dick for cash to keep paying me like the loser you are.
 I fucking hate you, and I'm going to fucking hurt you.
(Yes. A loser wrote this awful blog. Paid me to edit and post it while exposing his stupid, ugly, and THIN dick. Next time you see him in chat, make him pay for your call. Happy now you, fat fuck?)
Kayla 1844-332-2639 Ext 357
https://phonesexcandy.com/our-whimpers/kayla