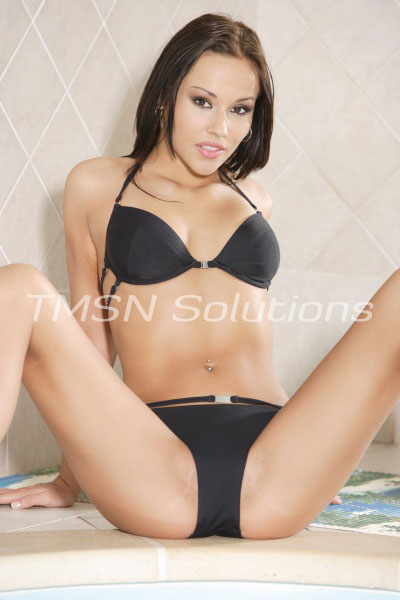 XXOO Laylene 1-844-332-2639 ext 419
Age Play fantasies fill your head?
Tight, absolutely bald, perky, and so-so sweet-tasting. Did that get your dick's attention?
That is what I thought. So, get that anaconda out, and let's have some fun.
See I am your live-in nanny, and your wife is away for the week. My little charges are tucked away snug in their beds.
You are in your office working late as you hear the water running above you. Knowing that I am in the shower. Envisioning my naked body under the running water.
I am just a few feet above you. You get hard at the thought of the soap suds sliding down my body. My body wet and slick.
You stroke harder thinking that I might be pulling the shower head off and letting it pulsate against my clit. Imagining me moaning and arching my back. Imagining me cumming. Cumming in your shower, cumming just feet above you.
Your cock is wet, and your mind is preoccupied. You don't notice the water has turned off.
You don't hear my little feet patter down the stairs. Your door is open, and you don't even realize I am standing in the doorway. Wrapped only in a towel. My wet hair clinging to my face. My body still wet and warm.
But I notice you.
I see your cock in your hand. I see you stroking. So big and thick and covered in pre-cum.
How can I resist? But I need to resist? Or do I?
I push the door open. You hear the creak and look my way. Your face turns red with embarrassment.
I give you a bratty smile as I drop the towel. Standing in the doorway, naked and wet. My perky tits and bald pussy are within your reach.
I give you no time to talk as I walk towards you. Without a word I pull your shirt off and pull your pants and underwear to the floor.
Kneeling between your legs I take your cock into my hand and start stroking you as I look up into your eyes before licking your thick tight cum filled balls.
And then …………………………………
Age Play
XXOO Laylene 1-844-332-2639 ext 419
https://phonesexcandy.com/sinfully/laylene/