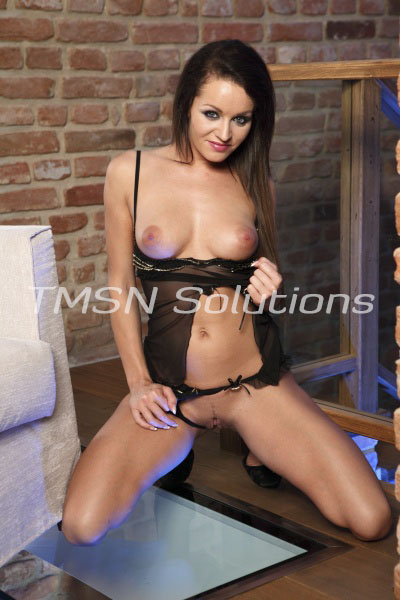 Sinful Serinda 844-33-CANDY (844-332-2639), ext. 394
It's been roughly ten years, but I still remember the most intense orgasm I've ever experienced. I've been pretty sexually active in my younger days, and the sex was all pretty standard, with immature boys at heart. I was with my boyfriend at the time and it was our first time actually "doing it". We've had plenty of playing around – handjobs, blowjobs, him giving me fantastic oral or just playing with my pussy, but we were finally "doing it".
We had planned this day for the right time and I had been anticipating it for weeks. I don't know what caused these events to turn, but when we were finally together I couldn't hold myself back anymore. I practically attacked him, pulling off his and my clothes and pushing him onto the bed. All I remember thinking and saying was "I need your cock inside me" over and over again, and he was more than happy to oblige. Foreplay wasn't required, I was sopping wet as I mounted him and easily slid his cock into me. We both moaned into each other's mouths as we pressed our lips together. I held tightly onto his shoulders, and he onto my hips as I began grinding my pussy onto him.
He met every thrust of my hips with his own, rhythmically pumping upwards into me, his cock running wildly over what I now know was my g spot. I don't know how, but maybe his cock was just angled right as his head and shaft rubbed over it again and again as we ground more intensely against one another. I don't know how long, but an orgasm to match no other started to build in me.
My toes curled and my breathing became more ragged. I dug my nails into his shoulders as I moaned louder and as best as I could announce that I was cumming. Wave after wave rushed over me and I'm pretty sure I almost passed out. Once the orgasm subsided and I was able to breathe, I felt an odd sensation, like a tickle between our bodies. I looked down and saw a long steady stream of "something" running down from my swollen groin and down his hips.
"Oh my God, I'm so sorry!" I was embarrassed – I could feel my cheeks blush. I had just emptied my bladder onto my boyfriend and now my life is ruined! I'd be the girl who does this when she cums. Everyone would know and I'd have to move towns. I hopped off and ran to get a towel. I came back expecting to see him dressed and running for the hills, but there he lay – still hard as a rock, soaking wet. "What's the matter?" he asked in confusion. I stammered as I pointed to the puddle on him.
He smirked and ran his finger into it and placed it in his mouth. "It's not from your bladder, you didn't know you squirt when you cum?" I never made the connection, and no – I hadn't. I explained that this was a first for me and he smiled and patted the bed next to him. I lay down and he hovered on top of me, running his fingers across my pussy. He was talented in so many ways, and this was my first time feeling this from him.
He slid his fingers into me, immediately finding my g spot again. It didn't take long for the sensation to cum to rush over me again, only harder than the last one. I had no control over this, it was coming at me hard and fast and I could not slow it down or stop it. The sound of my sloppy wet pussy was loud enough to drown out my cries as he worked, me raising my hips off the bed onto his hand.
Finally it hit me, I lost control of my limbs as I partially collapsed back onto the bed, my juices being flung across the bed and into his awaiting mouth, as he fingered my pussy and massaged my g spot. Finally satisfied with his performance, we continued our first sexual encounter in the soaked sheets. Whereas I've come close, I have never cum as hard as I did that day. I'm really hoping someone will help me relive that experience one day.
Serinda
844-33-CANDY
(844-332-2639)
ext 394
https://www.sinfullysexyphonesex.com/serinda/