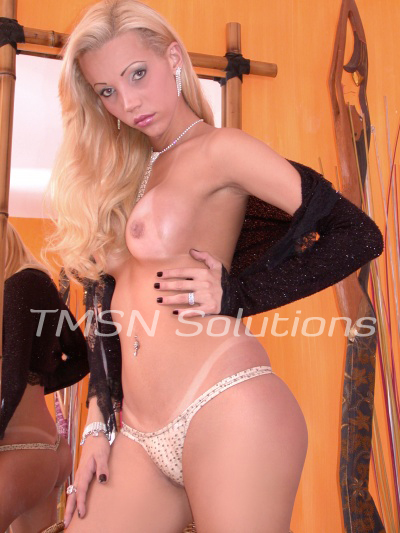 TS Alexus 844-332-2639 EXT 349 
When we met, you knew there was something…off. My pretty face caught your attention, but I'm so tall, and there is this tension in the air. I watched you look me up and down. Marveling at my obviously fake breasts. Could it be I'm just another sexy, plastic blonde, or is there something more hidden in my panties?
You suspect I'm a tranny and know you should walk away, but something makes your dick hard. Could it be the idea of rubbing our cocks together that is pushing you to keep talking to me? It's wrong, and you want it.
Tranny Tease
Adjust your dick as you need; I can see you still getting harder. And you are wondering if I'm getting excited too? Are my panties stretching around a cock or getting damp with pussy juice? There's only one way to find out, and the idea is teasing you.
Invite me back to your place or better yet, suggest we go to mine. Once we're all alone, you can strip me down and get an up-close and personal view of what secrets my body holds. Finding out will set you free.
TS Alexus 844-332-2639 EXT 349
https://phonesexcandy.com/sinfully/alexus/