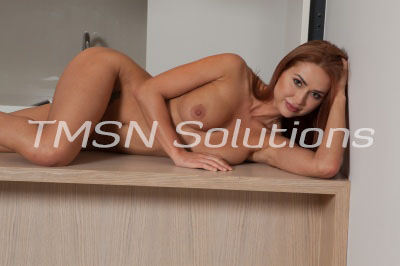 ~Idun~ 844-332-2639 ext 369
It's been so long since you last came for me. You've been rubbing your cock all day waiting for me to take you. I whisper the dirtiest things in your ear to stiffen your cock. You're so hard that you begin begging me to let you touch yourself. Perhaps I'll let you slowly rub your shaft, but I'm going to take my sweet time… because I just love to tease.
You're not going to quickly pump one out with me. You crave my sensual edging. We both know how hot the struggle is when you desperately want to cum… just for me to drag things out longer. You endure my teasing for days on end. I control your cock and how often you get to cum. You can only masturbate if my seductive voice is guiding you.
The tease and deny dance is one of my specialties. I'll string you along for days until your cock is aching for me.
The veins on your shaft and the size of your balls tell me that you're about ready to burst. You have to slow down and use your precum to lubricate that sensitive tip of yours. You're so aroused and claim that you can't hold it anymore. I think that's nonsense. I snatch your hands and pin them against the wall to force you to stop touching yourself. You're not cumming tonight! I'll happily leave you with achey balls and a leaking cock until I'm ready for your cum.
~Idun~ 844-332-2639 ext 369
https://phonesexcandy.com/idun/