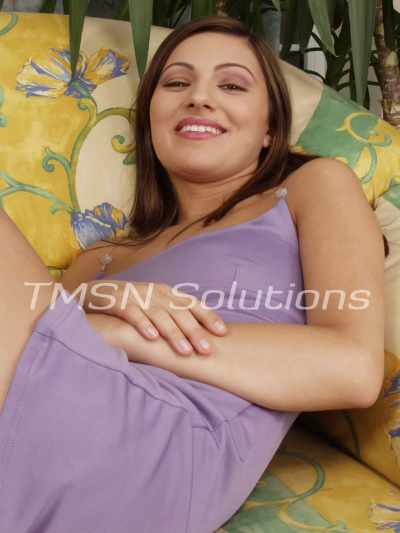 If you know me, you know how sweet and innocent my voice can sound.  Now, imagine that sweet little voice saying all manner of dirty things to you.  Come and listen to me talk dirty just for you.  Listen to my sweet filthy mouth saying things you probably didn't know I knew how to say.  My high sweet voice makes those things even naughtier because they are coming out of my mouth.
Talk Dirty
I don't just mean the normal dirty things you can usually get girls to say.  No, I mean rightfully dirty filthy nasty things coming out from between my sweet pink lips.  Just before I wrap them around your cock and proceed to choke on it for good measure.  In between sucks of my mouth, I'll roll my big brown eyes up at you and tell you what else I want you to do to my body.  In absolutely filthy raunchy detail.
I'll gladly tell you what else I want you to do with your big cock.  The holes where I want you to fuck me.  How hard and in what position I want you to fuck me.  No need to rush right to it though.  We can take our time.  I want to watch your cock jerk and leak precum for me with every nasty sentence that passes these sweet lips in my sweet voice.
You know there's something to building anticipation.  Letting me tease you with my mouth in so many different ways.  Kissing you, licking you, whispering nasty words about the debauchery I want to do with you.  So, let me run my tongue all over you.  Allow me to use my tongue to build up the anticipation and the pressure in your cock and balls.  Let me set the mood to all the filthy things I want you to do to my body with your body.
Zesty Zoey
1-844-332-2639 Ext 403