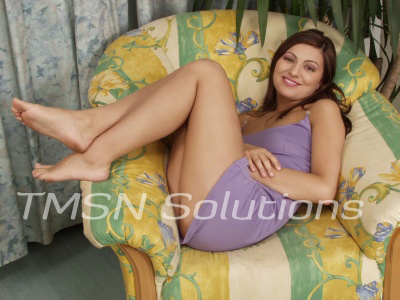 Submissive Zesty Zoey.  He slid his hand through my hair, and I leaned into the caress of his touch.  His palm cupped the back of my neck as he pulled me into him for a deep passionate kiss.  He slipped his hand up and underneath my shirt palming my aching breast.  Pushing my bra up he took my nipple between his fingers and pinched it until I gasped for him.  My pussy gushed wetness at just that small promise of pain.
Submissive Zesty Zoey
He turned me around so that my back was to him.  His hands glided down my stomach, taking the hem of my shirt in his strong masculine hands he pulled my shirt off over my head.  Then he made quick work of my bra, exposing my breasts to the cool air of the room.  My nipples immediately hardened earning me a rumble of appreciation from his chest pressed against my back.
Running his hands from my shoulders to my wrists he guided my arms together behind my back.  I sighed at the feel of the felt lined cuffs being buckled into place.  My pussy gushed once again at the sound of the click of the clasp that connected the bondage cuffs.  His hands brushing against my hips, he moved to stand in front of me once again.
Using his finger under my chin to tip my face up to him he whispered in my ear that it was time for me to show him my appreciation for him and his dominance over me.  I gladly sunk to my knees opening my mouth waiting to be allowed to worship my Dom and his cock.  I resisted the urge to press my thighs together at the look on his face as he reached for the zipper on his pants and pulled out his cock before sliding the head between my waiting lips.
Zesty Zoey
1-844-332-2639 Ext 403