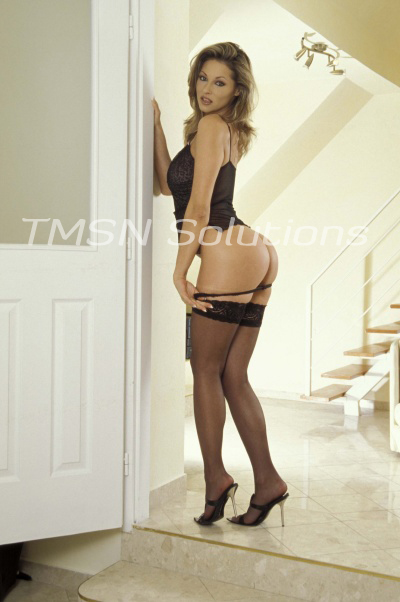 Anna 844-332-2639 EXT. 203
The art of domination and submission carries many layers. It can involve toys, roughness, humiliation and degradation. You know that there are other known ways in which one can be dominated. It can be sensual, playful and soft. How do you like to be dominated? Do you like it hardcore and to the extreme? Or do you prefer to be sensually dominated?
Sensual submission
 A day of sensual submission
Today I am going to give you that sensual submission you have been craving all week long. You will come over, and I will dress you up in my finest lingerie. First, we will make you put on: my bra, panties, garter belt, stockings, and high heels. Secondly, I will apply some lipstick for that slutty mouth of yours. What color should we choose? You have two options: firetruck red or hot pink. I will tell you to kneel before me, and you will polish my heels. You will do them to my liking, or you will have to do it all over again. I need to see both yours and my reflection in them, and you must kiss them afterward as well as my ring before getting up. Do a twirl for me, walk for me, talk for me, serve me. You must submit to me.

Let's play
Now I will make you sit in my chair you will face the full-sized mirror since we both know how much you like to look at yourself while wearing lingerie. Look at how sexy, slutty, and naughty you look. Do you think you look better in lingerie than me? Maybe you look better in it than your wife, but not me! Sit back and relax in the chair. Look at yourself. Let me play with you to get you rev'd up.

How slutty are you?
Don't you know that only sluts wear lingerie just to play with themselves? You want to get caught in the act, you have come close but not close enough! Isn't that what you want? Do as I say. Be a good little slut. You've waited for this all day. It's our playtime, and no one will ever know. Don't you dare remove those panties! Shove your hand down your panties like a dirty slut that's so eager, she had no time to even take them off. You will make them nice and sticky for me, and you'd better do exactly as I say, or else I won't let you wear my lingerie ever again! You will listen to my every word, my every wish, and my every command. I will make you obey and be a good little slut. Hear what I say now: good sluts get rewarded, and bad sluts get punished. It would be in your best interest to remember that.
Anna 844-332-2639 EXT. 203
https://phonesexcandy.com/anna
https://sinfullysexyphonesex.com/anna