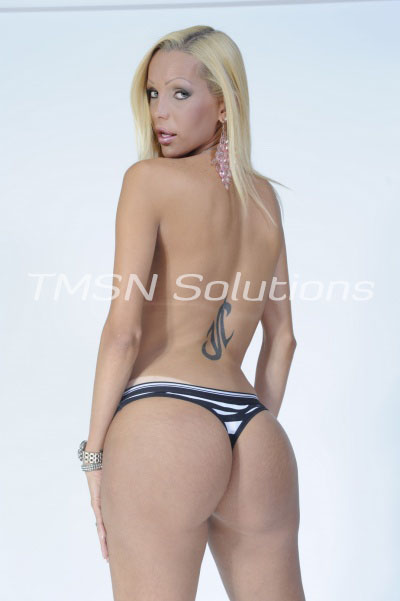 TS Alexus 844-332-2639 EXT 349
Time for some role reversal. You're a man's man. Always in control, always taking charge, well, not tonight. I'm going to show up at your house in a suit. Hair slicked back, tie tied tight, and shoes shined so well you can see your sexy face on their surface. You will greet me in lingerie. I expect a buttplug tucked inside of you, under your sexy panties, so that you are readying yourself for me.
Tonight, you'll be my bitch. I'm going to sit on the couch, and you'll dance for me. Something sexy, turn me on. Touch your body and show me how feminine and soft you can be. Watch me watching you and notice how my cock begins to grow for you. Such a good girl for me, making this cock stand up.
Role Reversal With Shemale Alexus
You know, if you're the one making this cock grow, you're going to have to be the one to take care of it. So crawl to me, little girl. Be coy and shy, bat your lashes at me, and ask nicely if you can take my cock out of my pants. Then, if you've done well this far, I'll pull my cock out for you, and you can watch me stroke it.
I want to make sure you really want it. Beg to kiss my tip; you can do it. You sound so pretty when you beg. That's it, just like that. Since you've asked so nicely, you can watch me pull my cock free as I stroke it. The lust in your eyes tells me you are loving this role reversal. It feels so good to be my little girl, doesn't it?
After a while of sucking me, it's time for me to lay you on your back and remove that plug so I can give you what we've both been waiting for.
TS Alexus 844-332-2639 EXT 349
https://phonesexcandy.com/tlc/alexus