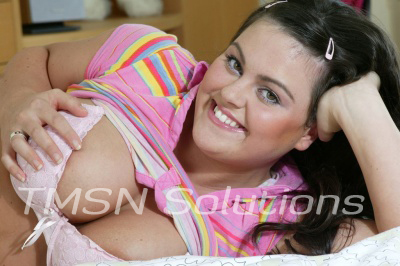 Krysta 844-332-2639 Ext. 410
Oh, hey, hi! You are home early, I didn't expect you to catch me in the playroom after the babies were asleep. Looking around me, you see I've made such a bad, naughty mess. This little baby sitter has been playing in the baby's diapers!
In fact, I have one around my bum now! Do you think it looks cute on me, Sir? My naughty little hands are sliding under my shirt to lift it up and show you the underside of my big udders.
Bad, Naughty, Little Baby Sitter
No! Don't look away. I know we aren't supposed to be naughty together, but I am too horny to obey the rules. If I get on my knees and rub my hot little pamper against your crotch, will you spank me? Will you change me if I wet? Uh oh, I don't know if I can help myself.
That warm, wet feeling against my little girl pussy is too tempting. Good thing you have all this fun stuff in the playroom to take care of me with! Your bad, naughty, little baby sitter is going to get pretty soggy in a minute.
Krysta 844-332-2639 Ext. 410
https://phonesexcandy.com/krysta/