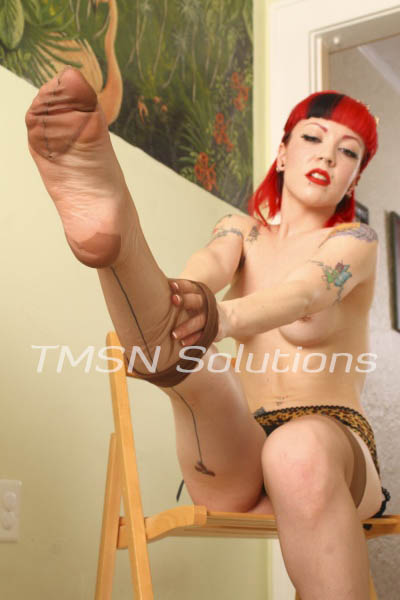 844-332-2639 ext. 205
Nylon subjugation isn't just something you submit to, but a lifestyle. Sometimes a little cumrag is so funny I just want to torment them more then anything else. Degradation has so many forms, especially fun for me when me putting you down puts me up even higher. Stockings are fun. So delicate, so feminine, just so strong, too. Stockings tied around your wrists will prevent you from separating them. Around your ankles will stop you from walking. Wrapped around your head and through your lips and not only can you not speak, but I can guide you.
But of course you need more, don't you? Nothing wrong with being greedy about your fetish, I'm sure even know you're picturing all sorts of ways those fancy pretty pantyhose could be used to squeeze every last drop of resistance out of you. I know that I am right now, but then, when am I not doing that?
Liking a girl in stockings isn't a crime, everyone loves a little nylon subjugation now and again. They're such a classic symbol of womanhood, its so easy to fetishize them. I think its healthy, I mean, I've even had them tattoed on my leg, so I can always check my seams. I'm sure a man like you would love to just slather your tongue all over my legs, wouldn't you? Feel my pretty nylon covered toes gently brushing against your stiff, wanting cock. Separated but still the wonderful texture, and then that heavenly smell of girl and nylon together. Admit you're drooling at the thought of it baby. You know you are, you little pervert.
Just call, pet. You know you deserve it. You know you want it. Submit, bow down, take my torment, and beg me for more.
It's for my own good.
Austra
844-332-2639 ext. 205