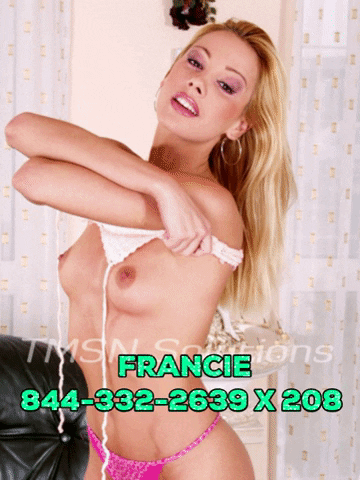 xXx Francie xXx 844-332-2639 x 208
My little Pleasure Pet is such a good boy for me. He knows how much I LOVE to be a naughty little cock tease. So when we play, sometimes I make him stay dressed so that I can rub my firm little ass against his growing cock. The subtle little whimpers and coo's he makes as I grind bring me such joy.
Better yet, it is the strained faces he makes when I slowly pull his pants down and release his swollen cock. He isn't like other loser pets. His cock is impressive in length and girth. It makes my mouth water when I pull it out. So, of course, I order him to control himself and NOT CUM while I delight myself with his member.
Cock Tease
He might beg and whine, but he NEVER cums without permission. I can stroke him, lick him and tongue his cock down for days, and he would just ooze precum for me. Maybe shed a tear or two, but really, he is the most well-behaved pet I've ever taken care of.
The other perfect thing about my sweet pet is how once he's allowed to cum, he can come on command. It thrills me to listen to his long-denied orgasm race through him, and once he catches his breath, I demand he cum again!
And you know what? He does! I could spend days teasing his beautiful cock.
xXx Francie xXx 844-332-2639 x 208
https://phonesexcandy.com/candygirl/francie
https://phonesexcandy.com/sinfully/francie/