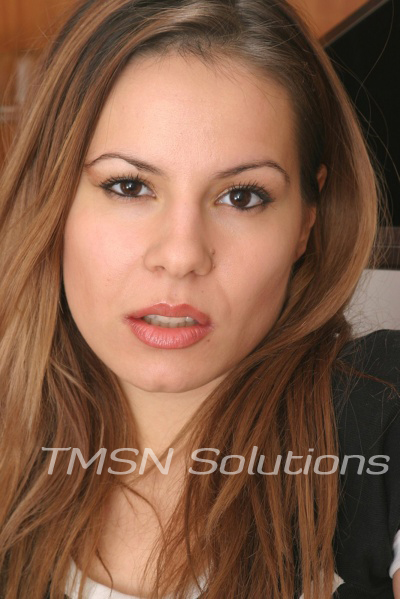 MONA MOANS 1-844-332-2639 EXT 316
Sensual Humiliation
Hello, again my darling phonesex sluts. First, I see that you are back for more sensual humiliation that only an expert domme can provide. While I'm not surprised one bit, I wonder if you really can handle the ways in which I'm going to degrade you.
So, let's begin with you on your hands and knees. And you better have your collar on bitch. I want everyone to know that you are Miss Mona's slutty little pet. 
Don't make me punish you, pet
Because I like how it looks and sounds, I have my favorite buttery leather flogger ready. First I'll start off with short, light taps on your ass and balls. But if you get out of line, I'll leave red marks all over your slut body.
However, what I really want is to show you what a pathetic slut you are and how you are controlled by your insignificant penis. Bring your nose to my pussy and keep it there. And remember, that's as close as you're getting to it. Because you are pathetic and your face buried in the cunt hat controls you is all you are good for. And do not forget that.
Perhaps today I will bind you and tease and torture your body in every delicious way my mind creates.
Or, I'll just bend you over. Spread those ass cheeks. And pound that asshole with my 12-inch strap-on. But only if your ball gag is in and your chastity device is on. I just need you to constantly know your subservient place.
Who knows what kind of sensual phone sex experience I'm in the mood for today? There's only one way to find out, pet. Can you handle it?
MONA * YOUR EROTIC PHONE SEX OBSESSION * 1-844-332-2639 EXT 316
https://sinfullysexyphonesex.com/mona/
https://sinfullysexyphonesex.com/mona/