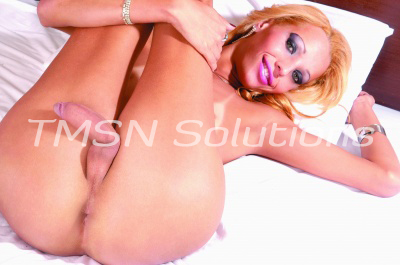 TS Alexus 844-332-2639 EXT 349
I love being in control and turning all of you cock loving sissies into TS-worshiping cocksleeves, but every once in a while, I want someone to make me their girl. I've transitioned, after all, because I wanted to be feminine and delicate. I need a man who will lay me on my back and kiss down my neck while preparing my asshole for a good fucking. Gaze upon me like a brand new lover. As if you are someone uncovering my curves for the first time, and each one excites you more than the last.
Tease your finger into my butt, just like you would any other bitch as you ready her to take your cock. Then, lick and kiss my breasts while telling me how beautiful you think I am. Treat me like a girlfriend, and I promise to make you feel like a man.
Make Me Your Girl
Thinking about it now, I can almost feel your weight on top of me. The gentle tease of your hands over my hips and down my thighs as you spread me open for you. Mmm, and the way you look down at me as my cock grows so hard. It feels so good and makes me want to be yours forever.
I can feel your shaft rocking against mine as your lips meet mine. We kiss deeply, swallowing each other's moans and groans as the need in our bodies swells. Blissful seconds will pass like long moments, and I'll begin to beg for you to fill me with your cock. Take my hole and make me yours.
Yes, you fit so perfectly inside of me. Sinking every inch of you inside of me would make me melt under you. Writhing for you and clenching around your to please you with my whole body.
TS Alexus 844-332-2639 EXT 349
https://phonesexcandy.com/candygirl/alexus/