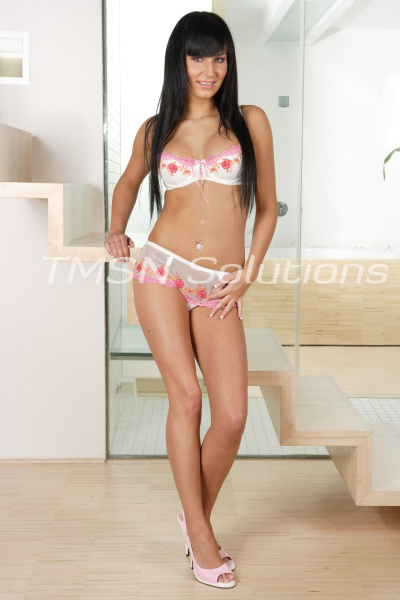 Zia 1-844-33CANDY ext 402
Hi pretty girl! I know what you crave and dream about all the time. You have been thinking about it all day and night, hiding it from your girlfriend or wife, and even looking at girly things online. You want to be a girly, feminine slut. You're a sissy girl on the inside and you just need someone to help you become one on the outside, right? Well, I'm going to make you a good sissy slut in no time.

I will help you with everything, I promise. We can chat all the time and I can train you to be the best sissy slut ever. I will help you learn how to apply your makeup correctly and to shop for the best girly lingerie and clothing. I for sure will teach you how to suck cock like a pro and to take cock in your sissy pussy like the slut you are.
Becoming a sissy girl isn't necessarily easy so you should have someone like me to guide you and teach you the ways of a lady. I have obviously been doing these feminine and slutty things almost my whole young life so I know what to teach you and what you really need.
First, we'll get you looking like a proper whore. Then, I'll teach you how to pleasure a man and be a total slut by sucking cock and taking it up your sissy pussy. We'll get you walking like a girl, acting like a girl, and looking like a girl. That's exactly what you want, isn't it?
I absolutely love chatting with my girlfriends and teaching you all about how to apply your makeup, how to dress like a good girl, and how to suck cock like a pro. I know you have been dreaming about becoming a perfect sissy for a long time so let's make it a reality! Let's make you a perfect sissy slut. I can't wait.
Zia 1-844-33CANDY ext 402
https://phonesexcandy.com/candygirl/zia/