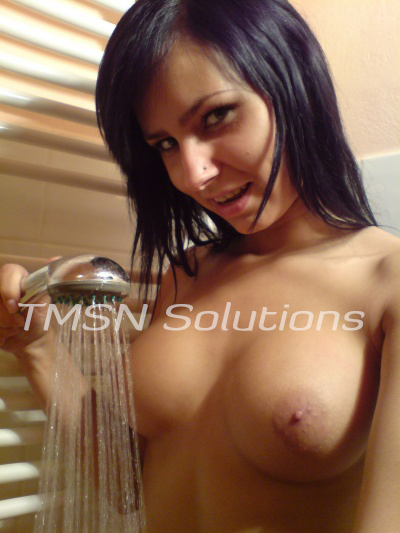 Zia 1-844-33CANDY ext 402
I have seen you watching me when I go to the end of the driveway to get my mail each day. Out of the corner of my eye I see you staring at me through your bedroom window when I pull up in my car every night and you get a nice view of my cleavage as I get out of my car. You have fantasies about me, don't you? I'm the girl next door and you dream of fucking me.
Let's fulfill your girl next door fantasy. I want to give you what you want, what you dream about when you're in your house late at night stroking that nice hard cock. I know you have that girl that you can't stop watching and fantasizing about in your neighborhood so let me be that girl tonight.
You Finally Get the Girl Next Door
You hear a knock on the door and open it to find me standing there. I'm wearing booty shorts and a tight tank top with no bra, and you can see my hard nipples at attention. I notice you looking me up and down as you ask how you can help me. Mmm I think you know how you can help me. Using the excuse of needing to borrow a cup of sugar for a cake I'm making, I practically force my way into your home. Asking if anyone else is there I start walking up the stairs to your bedroom. You can see my hot little ass peeking out from beneath my tiny shorts as I take each step and your cock starts to twitch. It's about to get so fucking hot in here.
As soon as we enter your bedroom, I push you against the wall and shove my tongue in your mouth. Don't I taste so good? I can feel your dick stiffen against my leg and you can't help it anymore. You have dreamed about this moment ever since I moved in next door. I'm the girl next door that you have wanted to fuck for months and you're finally going to get to.
Your Fantasy Comes True
"I need you inside me" I moan as I free your huge hard cock and peel my shorts off. I whimper "Fuck me hard" as you thrust into my wet cunt finally. God yes it feels so good to slide in and out of my tight little hole as I scratch my nails down your back. Your fantasy is finally coming true and you fuck me deeper and harder until I cum around your cock and you can't hold back any longer. I want you to cum inside me and you do.
I'm the girl next door you have been watching and dreaming of fucking and you finally got to fuck me hard in your bed. It'll be so much fun the next time I need to borrow something, won't it?
Zia 1-844-33CANDY ext 402
https://phonesexcandy.com/tlc/zia/