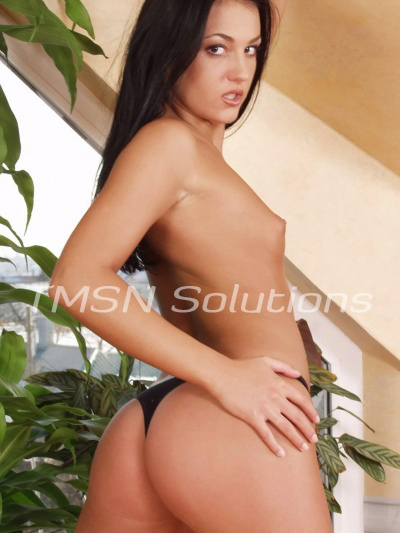 Avery  1-844-332-2639 ext. 228
I'm going to tell you a secret. I know sometimes I can come across as a sassy bitch. But I love being submissive and sometimes, I crave be bossed around. I know a man who takes over like no one else in my life, and he has the biggest, blackest cock I've ever seen. He tells me when to suck it. He tells me when to fuck it. He gives me exactly what I need…
He called me once and told me to meet him at a local park. I never argue with him. Ever! When I got there, I realized that he had another man with him. This man was much taller and much blacker than he was and I could see how well hung he was through his pants. My pussy immediately started to buzz.
The three of us entered a building. It was like a warehouse. There were chains suspended from the ceiling. The big man shackled my hands to those chains. He ripped my clothes off. I saw him stare at my hard nipples. I hoped he would touch them, but he didn't. My pussy started getting wet. He picked up a bucket of cold water with a sponge in it. Then he started to wipe me down and my entire body started to tingle. I didn't say a word, but I wanted to beg him to touch me. To lick me. My lover was just watching from a distance.
I closed my eyes trying to take it all in and when I opened them again both men were standing naked before me. Each one started to lick a nipple. I was in heaven. They started to suck and nibble and bite. I looked down and noticed they had grabbed each other's cocks. They were so hard and so huge. They just kept stroking one another while my pussy throbbed for a single touch. I wanted one of those cocks to fuck me. Or both. At this point, I would have settled for a finger to start with. I starting pressing my thighs together to see if I could make myself cum.
Then they both sucked hard on my nipples at the same time. My orgasm exploded. And so did theirs. They both came all over my pussy. One of them got in front of me and started stoking his cock to get hard again. The other got behind me and started to finger my ass. He slid his wet cock slowly inside. I cried out. It hurt so much but felt so fucking good at the same time. Then the one in front of me slid his cock inside my pussy. Someone's hands were squeezing my breasts. One was rubbing my clit. Kissing and biting my neck. Pulling my hair. It was all so much, it became a blur of pleasure.  
I must have passed out and when I woke up, they were gone. A woman came in and unchained me. She gave me a robe to wear and put me into a taxi. This is the way this man comes in and out of my life. He comes in full force and leaves me always wanting more. I'm addicted.
Avery xo
1-844-332-2639 ext. 228
https://phonesexcandy.com/sinfully/avery/
https://phonesexcandy.com/sinfully/avery/
Want to read more of my hot blogs?
https://sinfullysexyphonesex.com/author/avery/
https://phonesexcandy.com/author/avery/
https://sinfullysexyphonesex.com/author/avery/
https://sinfullysexyphonesex.com/author/avery/