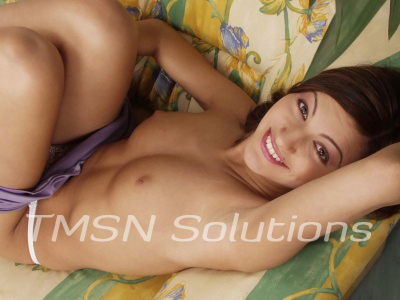 Freaky Double Cocked Alien: I woke up naked on a cushioned bed in a room made of metal walls and floor.  The seams of the room seemed bolted together.  I couldn't be on some sort of ship.  How in the world did I even get here?
Freaky Double Cocked Alien
Disoriented and confused, I pushed myself up to a seated position.  When I shifted my leg I heard a distinct clinking sound.  I looked down and saw the big heavy cuff locked around my ankle.  Why and where was I being held captive?
I didn't remember anything happening that would explain my being there in that room.  My brain felt heavy and fuzzy and it was hard to think a clear thought.  So, I called out into the space of the room around me.  Maybe someone would hear me and come to explain what was going on.
Before long I heard a click of a door latch.  I caught the movement of the door and turned toward it.  In walked in an extraordinarily tall man.  The closer he got the more striking his features became.  Humanoid yet not.
He told me that I was there to become his mate.  No, he couldn't return me to earth because they were already 5 light years away from my home planet.  Even if he were closer, he wouldn't turn around and return me.  He'd already claimed me as his.
He climbed onto the bed and grabbed my legs flinging me onto my back.  His seven-foot frame, scruffy beard, and purple hued eyes had an immediate affect on my body.  He leaned back stroking his cock and told me to watch very carefully.  When he flexed a muscle in his lower abdomen, another cock extended from below the first one.  All thoughts of wanting to return home left my kinky mind.  This was going to be an amazing adventure indeed.
Zesty Zoey
1-844-332-2639 Ext 403