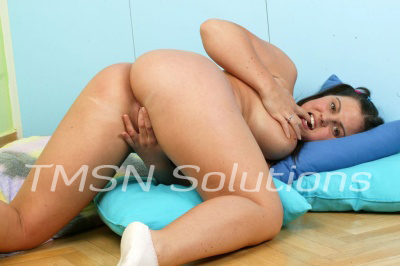 Krysta 844-332-2639 Ext. 410
Flog Me, Daddy, Please!
There's a room and my stepdad's house that I'm not supposed to go in. My mom says it's for his special things, and only certain people are allowed to go in. I really hate being kept out of places in the house I'm living in; it doesn't really seem fair. Like, what if it's dangerous? What if it's something the police should know about?
 I have a right to know what's in my house, and because I feel that way, when everybody was gone, I picked the lock to the secret room at the back end of the house. So when I open the door I was shocked by what I saw.
Flog Me, Daddy, Please
The wall was lined with floggers, canes, belts, paddles, and all kinds of adult toys. No wonder my mom didn't want me to see my stepdad's special room. She was probably afraid that I would think he was a freak.
Like most girls, my age curiosity got the better of me, and I started to walk around. I fingered the fur line cuffs he had left lying on the bed in that room, and something inside of me started to get hot. However, I should have left right then, but I was too stupid. So instead, I started to look around for other things to explore.
 I had the nine-tail flogger in my hand, counting the ends of the leather strips. Sharp tiny stones were sewn into the ends of the flogger, and I imagined what it would feel like if it struck my skin.
I didn't hear him come in because I wasn't paying attention. Instead, my stepdad grabbed me by the back of the neck and pushed my face down into the bed. Then he took the flogger away from me and gently thudded the ends against the back of my thigh. The sound scared me more than the impact, but I still screamed in reaction.
" Haven't you heard what curiosity does, little girl?"
Krysta 844-332-2639 Ext. 410