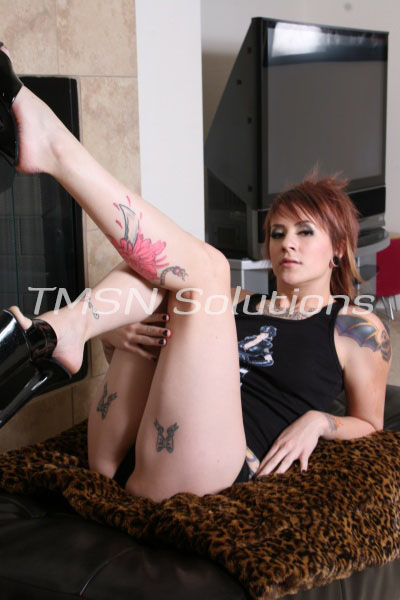 It's been a crazy day! Between hours spent running errands, cooking dinner, practicing my guitar, and working out, I'm exhausted. I'm ready to collapse on my bed, and I almost do, but something stops me…my laptop is sitting untouched on my coffee table, and I still have a few tabs of porn open from when I was getting off last night.
I smirk as I make my way to the couch, losing layers of clothes on the way. By the time I sit down, I'm almost completely naked. I'm only wearing my black cotton panties and a badass black tank top. I look hot and feel even hotter. It's time for me to relax. I've had a hard day, and I deserve to unwind with a hard, long, screaming orgasm.
I try watching the first porn video I have opened (a blonde bimbo being passed around a party), the second (a BBC cuck video), and the third (a barely-legal daddy's girl at her 18th birthday), and they're all sexy…but they don't make me cum.
No, the only thing that can make me cum right now is talking to some real people. I'm craving cybersex like crazy! By the time I log on, I'm already soaking through my panties. I'm making such a mess of my leopard print blanket, but I don't care. I just want to talk about my dirty fantasies with strangers, like the kinky whore I am.
In fact, I'm the exact kinky whore you've been looking for. Phone sex and cyber sex aren't just services I provide – they're my outlet. My greatest escape in life. When I log on, I can finally be myself. I can be the nasty, cum-guzzling, cock-hungry slut I feel like I am on the inside. Phone sex isn't just a hobby – it's a passion.
If I could, I'd live my whole life in this fantasy world, where my voice and my words have only one purpose – to make people cum. I can't think of anything I want more in the world than to spend all my days fingering my tight pink pussy, waiting for your call, waiting for your message, waiting…for you.
xoxo,
Noelle
844-332-2639 ext. 379
https://sinfullysexyphonesex.com/noelle