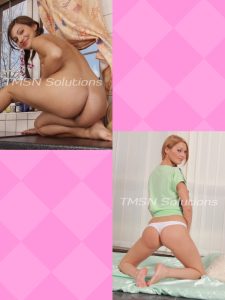 Daddy has a special name for Kayla and me.  He likes to call us his little devils.  Because we give him no peace, and he isn't sure that we might not be a bit possessed when we're around him.  But how are we supposed to help ourselves?  Our Daddy is sexy, and we know what he's hiding in his pants.  Can you blame us for trying to get into his pants any time we can?  I mean, if you had a hot and fuckable Daddy as we do, I bet you'd do everything you can to make him fuck you too.
Little Devils
We were hanging out in our room plotting.  I mean making plans to seduce Daddy.  It had been a while, and we finally had him all to ourselves.  We'd bought brand new little outfits and everything.  Daddy had begged us to behave when mommy said she was going out with the girls that night.  But we knew he didn't mean it.  In fact, his out loud pleas for us to leave him alone were secret pleas to make him give into us so we could fuck his brains out.
So, we slipped into our sexy baby doll lingerie and headed downstairs.  When we reached the door to the den, we dropped down onto our hands and knees and crawled the rest of the way inside.  Despite his protests, we knew Daddy loved our little surprises.  So, we crawled over to where he was sitting on the couch and then climbed up next to him.
We used all our naughty girl wiles to make Daddy give into us and our needs and his secret desire.  Daddy fucked us in every way that we love.  Probably that Viagra we'd slipped into his drink earlier helped too.  His cock was hard and aching, and he couldn't hold out for very long like that.
Zesty Zoey
1-844-332-2639 Ext 403