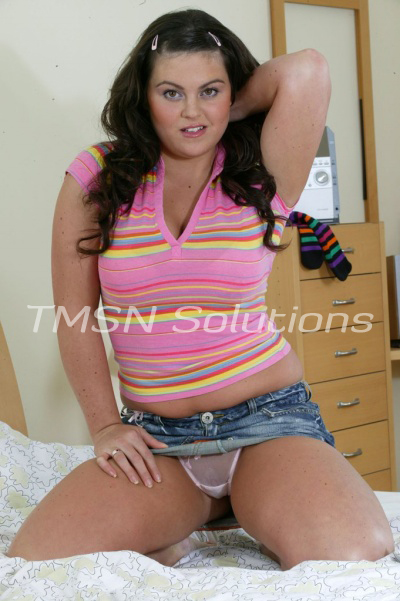 Krysta 844-332-2639 Ext. 410
I have a decent allowance. A few hundred bucks a week could be better, but Daddy is pathetic, and it's all he can afford. However, with summer being like right fucking now, I needed a new bikini for my friend's pool party. Unfortunately, I'd already spent my week's allowance, so I had to corner Daddy and ask him for money. He wheezed and groaned. "Krysta, you know the budget is stretched thin; I can't afford to give you anything more right now, baby girl."
I was fuming! I can not STAND when he says no to me. So I stomped my foot and pouted. "But, Daddy! I need a new suit or else!" He cringed at my anger but shook his head. He left me no choice. I'd have to call the gang.
Daddy Gets Gang Banged
"UGHFF!" I stormed off and stabbed numbers on my cell phone as I stomped down the hall. Then I slammed the door to my room and pushed the phone to my ear. Tyrone answered, and I huffed. "Can you and the boys come over? Daddy is being disobedient again."
"How many boys?" He laughed at my seething anger.
"More than five, less than ten." I snapped.
"Ohh, baby. Daddy must'a really done upset you. I'd hate to be him. We'll be by in twenty." We hung up, and I threw myself on my bed to wait. Fifteen minutes later, the doorbell rang, and I rang to the door. Daddy was reading in the living room, and he looked up from his book.
"Who could that be?"
I grinned as I opened the door and held out my hand. Tyrone kissed my cheek and slapped two hundred dollars into my hand. "There's eight of us. Twenty-five each." I nodded and welcomed them in.
"He's in the living room." I followed the gang in as they surrounded Daddy. They pushed him out of his chair to the floor as he started to beg me to explain what was happening. "Well, you didn't have my money, so you're gonna earn it." I waved the cash in my hand. "Do what they say and behave, Daddy. I don't do refunds for poor service."
Krysta 844-332-2639 Ext. 410