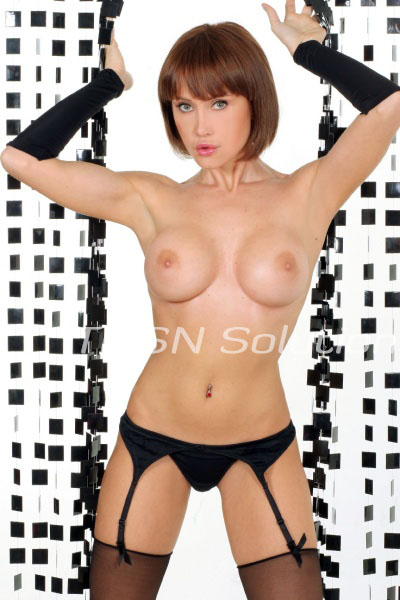 Joanne 844-33-CANDY (844-332-2639) ext 389
It's a late and foggy night,the air is filled with the scent of ambergris and smoke, you're on the side walk lighting up your cigarette. You just came out from a game of poker, hate to admit it but, you lost heavily.
Wondering how you could turn this night around you think to yourself what your next move could be. Deep in thought you almost don't notice the tip tap tip tap of heels coming in louder, coming in closer to you. Certainly, you caught a sight of my long black widow legs breezily walking by, the scent of cashmere and musk and hot pussy walking by.
You have to hold yourself back from exclaiming wow, as I pass by and we make eye contact, my eyes are practically glowing with lust and sex drive.

Crazy Energy Wants a Crazy Fuck
Well there's a way to turn your night around…you catcall me. It makes me stop in my tracks, I turn around slowly and you see I'm wearing nothing but lingerie and a long black leather trench-coat. The lingerie is peeking out from my coat. You see a flash of my black panties showing.

"That's no way to catch a ladies attention sir, I think my presence deserves more than that", I say lustfully and the cool breeze carries my words into your brain and latch onto the sound of my husky voice.
You try to get the words out but I put a finger to your lips to stop you.

"My name is Joanne and I can tell you're down on your luck, but I know how to make tonight worth your while"
You take a single glance at my breasts right in your face. You see an illuminating crystal glowing across my bosom, your eyes widen at the power it holds.

"The energy and luck of this crystal can only belong to man who can fuck me hard and long enough, are you that man? a pussy this wild can give you the fortune you want"
You rip off my coat and pull my panties down only to see…

**To be continued**
Joanne
844-33-CANDY
(844-332-2639)
ext 389

https://sinfullysexyphonesex.com/joanne/
https://tlcphonesex.com/joanne/