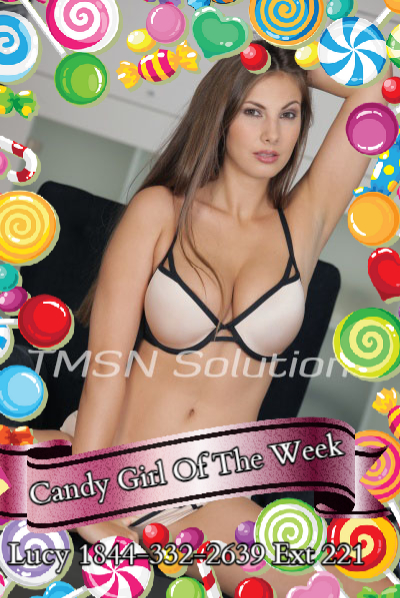 Candy Girl Of The Week Lucy 1844-332-2639 Ext 221
Hi guys, I'm Lucy, and I'm your Candy Girl of The Week. Being a MILF is one of my greatest accomplishments and my favorite title. If we haven't met before, then why don't you read below and learn a few things about me?

Candy Girl Of The Week

What's your favorite style of panties?
I've always loved anything involving my ass and lace. But my favorite panties are a toss-up between a classic thong and some sexy cheekies.
What part of a man's body turns you on the most?
Obviously, I love a nice thick cock. But I must admit that a smart, confident man who can challenge me both in and out of the bedroom is the biggest turn-on for me.
Are you Domme, submissive, or more of a switch?
I would say that I'm more of a switch. I love a man who can put me in my place, but I also love being the one to put him in his.
What makes you feel sexy?
Being able to drive men crazy and then being hard to get always makes me feel incredibly sexy.
Do you have a secret/not-so-secret fetish?
I have a total soft spot for foot lovers. Having my feet worshipped feels amazing, and I must say that I have the perfect soles and toes for a foot job.
How often do you masturbate?
Honestly, I masturbate as often as I can, usually in my morning shower or at night with you guys here.
I hope this gave you a little insight into me and also a hard cock. I'm here every night, so if you want to get to know me even better, I would love to talk.
Lucy 1844-332-2639 Ext 221
https://phonesexcandy.com/lucy
https://tlcphonesex.com/lucy/
https://sinfullysexyphonesex.com/lucy/