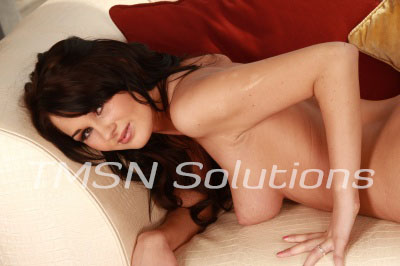 Sweet Lovin' Kayla 1844-332-2369 ext 357
You like to watch me, don't you? Not just when I'm getting FUCKED by other cocks but all the time. I can always feel your GAZE TRAVELING along with my figure whenever we're in the same room. Taking in the way I move, the way I bend or stretch. You're always watching me—my own personal voyeur.
Tonight, when I saw you sitting in your chair, reading a book and slowly sipping your whiskey, I knew just what to do. First, I acted as if I couldn't feel the heavy weight of your eyes on my SKIN. Then, I slowly removed each article of clothing until I was bare for you.
Engaging My Voyeur Senses
The bottle of lotion in my hand was your favorite SCENT. I know this because whenever I lather my body in this one luxurious smell, you can't keep your HANDS off me. So, turning the bottle upside down, I squeezed the CREAMY LIQUID into my palm then rubbed my hands together to warm up the cold lotion.
My back was to you when I bent at the HIPS, placing my left foot on the corner of the couch to caress my ankle and calf. My skin absorbed the lotion as I smeared it around. Careful to cover every inch of my BEAUTIFULLY LONG, LEG. Up and down, I rubbed. The scent of the lotion began to fill the room as I moved up to my hips.
Mmm, the lotion made me feel even SEXIER as I massaged my ass cheeks. My skin was prickling at the duel sensation of my hands traveling over my body and you watching me. I peeked back over my shoulder to see the tent in your pants and your wide eyes fixated on me.
So Much Skin
I turned to face you as I watched you, watching me. My hands now skimmed along my sides and up over my ribs. Under my breast, then I lifted each perfect, FLESH BAG. Finally, I pinched each of my rose-colored nipples between my slippery fingers.
I'm almost covered, baby. But I'm struggling to cover my back. Will you massage my lotion into my back for me?
Sweet Lovin' Kayla Cumsalot 1844-332-2369 ext 357
www.sinfullysexyphonesex.com/kayla/