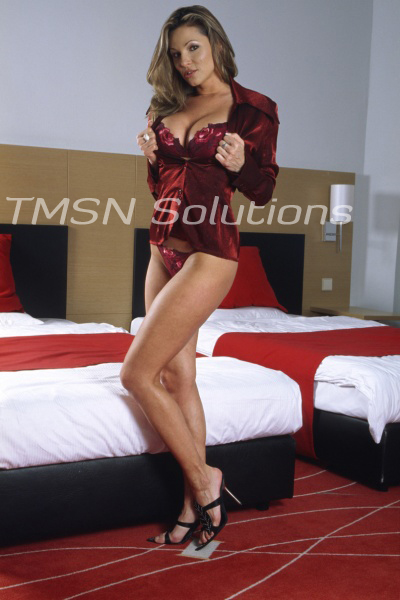 Anna 844-332-2639 EXT. 203
Everyone wants to be rewarded for their hard work. Imagine working day after day, while away from home, no breaks, no rest until your job and goal has been met. But what if you had a really awesome boss who knew just what you needed and how to thank you for your time? Maybe they'd want to surprise you and thank you with exactly what you need and have been yearning for.
A hard-working girl for a hard-working man
Taking care of business every day…
You've been working so hard lately. Traveling, working, talking, phoning. You are absolutely spent and exhausted. You are on your last day of travel, and you crash at your hotel suite. You have superseded your goals and plans, and you know your boss will be more than pleased with you. As you lay on your hotel room bed, still in your business attire, you suddenly hear a knock at the door…
A beautiful stranger…
I stand there, in my stockings, 6-inch heels, and trench coat. You look puzzled. I have my hand up on the door frame. Well? I say as I smirk and look at you. Aren't you going to let me in? You are speechless as I waltz into the room. Close the door behind you, I say. You do it, but your mouth is wide open. Ugh, can I help you? You say, still puzzled. Yes, I think you can. I replied. You see, you've been working so hard, and traveling and over-exerting yourself, you really outdid yourself this time, and your company is so very pleased with you, so much so that your company boss wanted to send a nice big thank you as a reward for your time and efforts. So, you know what he did? He went and found a very hard-working gal downtown, who has just the right amount of experience to take care of you. Shall we get started? You still look puzzled and almost turn red and start mumbling. I walk over to you, undo your belt and let your pants hit the floor to your ankles. I then open my trench coat, and throw it eagerly to the side. I stand before you, in my tight short skirt, so short your can see the lace tops of my stockings and an eyeful of cleavage. I walk towards you, pants still down to your ankles. Let the fun begin… we have all night.
Anna 844-332-2639 EXT. 203
https://phonesexcandy.com/anna
https://sinfullysexyphonesex.com/anna