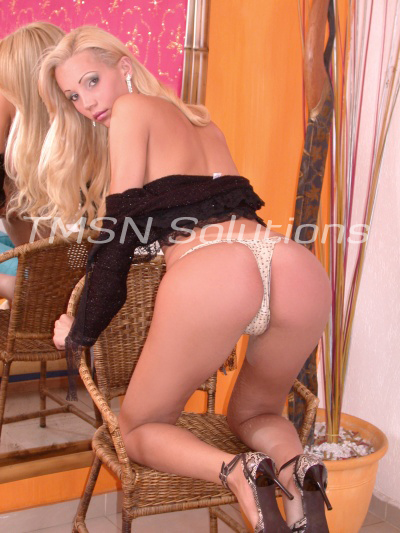 TS Alexus 844-332-2639 EXT 349 
Your wife doesn't know how badly you need spanks. She thinks it's a weird fetish, some kind of game that she doesn't know the rules to. Why would anyone want to be hit? She can't stomach the idea of hurting you but I can. She knows I don't mind giving a naughty boy what he deserves.
She's asked me to come over and surprise you after work. I'm reclining back in your favorite chair in the living room. The man of the house's chair. The one you normally claim, but not tonight. Tonight, you are going to be the bitch.
TS Spanks You and Your Wife
I sit up when you come in, lead by your wife. She's flushed and anxious to see how this is done. You keep looking between us, unsure but there is a tent in your pants. The unknown excites you, doesn't it, bitch? I wonder how many spanks it will take before you cum all over yourself?
Your wife softly explains what I'm here to do. She helps you undress until not a stitch of clothing covers you from our eyes. She and I stay fully dressed. Next, I pat my leg and she pushes on your back. Helping you bend over my lap. Your legs are between mine and I close my thighs to hold you in place. That rock hard cock of yours is pressing into my hip. Try to hold on, we haven't even started yet, naughty boy.
TS Alexus 844-332-2639 EXT 349
https://phonesexcandy.com/sinfully/alexus/
https://phonesexcandy.com/candygirl/alexus/