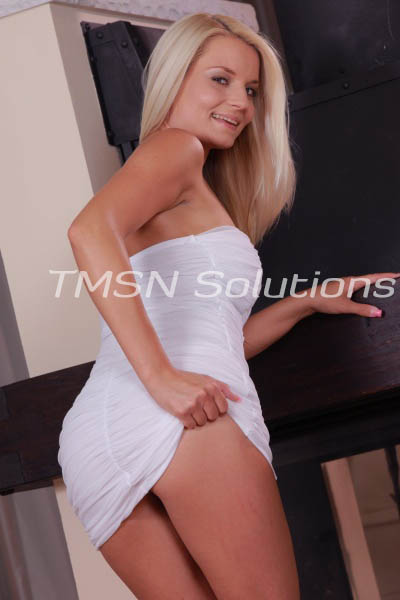 Phonesex with Felicity 1844-332-2639 x 270
Working for Mr. Smith used to be really boring. The same old nine to five, typing all day, getting him coffee and lunch, listening to his dull conversations on the phone day after day. It was enough to almost make me feel bad for him. Almost.
One day, I heard him talking to a business acquaintance about how boring and awful their wives were. I've seen Mrs. Smith before; she's put together nice enough, not quite like me, but who is? Poor Mr. Smith hasn't gotten a chance to stretch Mrs. Smith's cunt in years. Instead, he's been forced to hold onto the distant memories of what her throat felt like and the texture of her wet tongue lapping at his aching, married cock.It wasn't long into their marriage that Mrs. Smith stopped giving up the goods and just started taking them. Mr. Smith is a sucker; he keeps her in a fancy car and beautiful clothes, all in the hopes she'll spread those legs once more.
Tempting Mr. Smith
So I waited and waited. Until Mr. Smith finally took a call from Mrs. Smith on his speakerphone. I have the master phone controls at the secretaries station, so I pressed the "lock" button on the speaker. He couldn't take it off speaker if he tried. So I took off my jacket and opened two buttons on my size too small blouse. My tits were, well, big and falling out and soft and oh so inviting all at once. Mr. Smith started to stutter. His wife asked if he was ok. I kept walking towards him. He said, "Yes, just knocked a paper off my desk; go ahead, honey."
Mrs. Smith kept going on and on about her day. Finally, I slipped Mr. Smith a note "The door is locked, best to control yourself." Is all it read. Then I slipped my hand down his pants. He sighed loudly. His wife asked again, "Is everything ok?"
"Y-yes," he said. "Tell me about the rest of your day." It's incredible how thrilling giving a blowjob you can be when hearing another woman talk about groceries and the new sweater she wants to buy.
Poor Mr. Smith tried to take the phone off speaker, but it didn't work. So I started making that slurping sound with the spit from the back of my throat, the kind that only a tonsil massage makes. Mr. Smith looked flustered. I took him all the way down my throat and looked into his eyes as if to say, "Just tell me to stop, and I'll never bother you again."
He grabbed a fistful of hair instead. I started gagging hard. Mrs. Smith demanded to know what was going on. "Are you listening to me? You know I don't like it when you multitask when we talk, honey." Just as Mr. Smith was about to answer, I couldn't help myself. I pulled his balls down and started teasing them with my tongue while his cockhead continued to batter the soft flesh of my throat.
Just Ask Me to Stop
"I'm sorry, honey, Felicity just came in to remind me about an appointment I'm late for."
"Oh, your secretary, I like her, tell her I said hello and thank you for keeping my husband on his toes. I'll see you when you get home after your appointment."
With that, Mrs. Smith hung up, the only way for our call to end after I "locked" it from my desk. Mr. Smith asked me what the hell I was thinking. I smiled and said I'm happy to leave if you'd like, as I gently stroked his still rock-hard cock. Then, with a growl, he ripped my skirt off and forced me over his desk. Papers scattered all over the floor as he started fucking my raw cunt with the ferocity of a hungry beast. I felt his warm seed splatter my womb then he fell back in his chair with an exasperated sigh.
I walked over to him and whispered in his ear, "I'm not on birth control," as I kissed his ear and neck. Mr. Smith jumped like someone shocked him. When he jumped, some of my lipstick wound up on his shirt collar. Whoops. Mr. Smith is an intelligent guy. I'm sure he can figure out a way to explain the mark on his shirt. Plus, it will be good practice for the explaining he'll be doing in nine months.
Poor Mrs. Smith. She's really been missing out.
Phonesex with Felicity 1844-332-2639 x 270