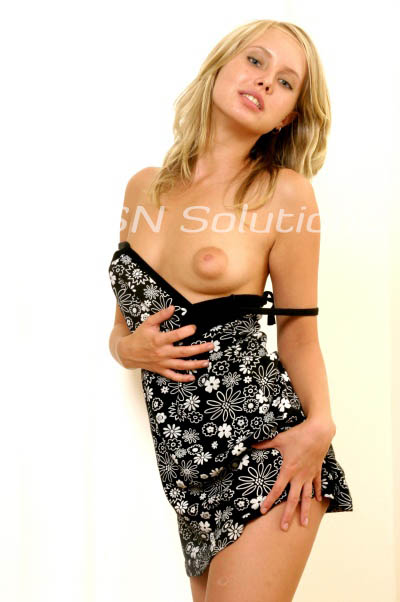 *Allison* 844-33-CANDY ext 286
I live in California where the Summer months can be brutal. The only way to survive the Summer here is to strip as much of my clothes off as possible. I pretty much live in short dresses, bikinis, and booty shorts all Summer long. It doesn't take long for me to start stripping once I get home.
I'm usually naked when I take phone calls in the Summer. It's so much easier to play with my pussy when I'm already naked and laying in bed while I talk dirty to you. My wet pussy drips all over the expensive sheets that my husband will sleep on once he returns from his business trip. I'd rather fuck my pussy with one of my dildos while I hear your sexy voice instead of waiting for my lame husband to do me.
I begin to strip off all my clothes the minute I see your number pop up on my caller ID. You can hear the excitement in my voice as my clothes come off. My panties and bra hit the floor in no time. I'm naked and ready to play with you. I want you to call me and picture me running my hands all over my tan breasts and luscious pussy. I'll be rubbing my clit as you tell me how you want to dominate and own me. My beautiful naked body is yours forever.
*Allison* 844-33-CANDY ext 286
https://phonesexcandy.com/allison/