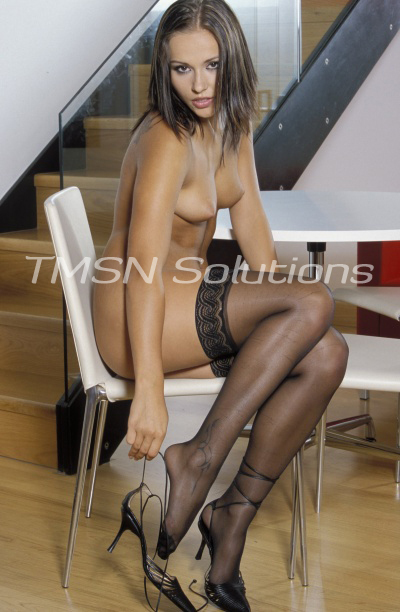 XXOO Laylene 1-844-332-2639 ext 419
Stocking Phone Sex.
Do you like the way my stockings look? Soft, sheer, and tight. Black. My pretty painted toes showing through the toes. I knew you were looking for stocking phone sex before you did.
I watched you. Watched you very closely as I pulled them from the package and slowly rolled them up to my legs. Thigh highs, the most perfect kind. Just enough to drive you wild and then when you get to the top, well that is when you see the prize.
Yes, the prize. My perfect wet pussy. But before we get to that wet perfection let's get back to the stocking phone sex.
I pull them to my thighs, and you watch as I stretch out my leg. Pulling them nice and slowly up. Finally letting you get a close look at my foot. The foot you love to suck on, the toes with the pretty pink nail polish.
I put them up to your face and rub them across your cheeks and then across your mouth. You can touch baby, don't be shy. Then you grab my foot, rub them, and smell them, even sticking them in your mouth.
I smile as my pussy gets wetter, but I am not ready for you yet.
Get those pants off I tell you. Then lean back. I lean the other way and my foot reaches your crotch.
I put my arches around your cock and start to rub. Obviously, you love that feeling. You lay back as I jerk you off with my stocking-covered feet. I caress your balls and shaft and your ever-sensitive head. feeling the pre-cum on my heels.
I push harder with my arches and stroke you faster. Your hip moving up and down to the motion of my feet.
My pussy is throbbing, and I push my finger inside my soaking wet cunt and finger myself. Then I give you a few more strokes as I plunge my fingers deeper inside of me.
As a result, we both cum. Me on my fingers and you on my stockings. Next, I reach my hand to your mouth, and you suck my juices while I put my hand on your cock and bring you hard again.
So, what about that hot stocking phone sex call? I will be waiting love.


XXOO Laylene 1-844-332-2639 ext 419
https://phonesexcandy.com/laylene/