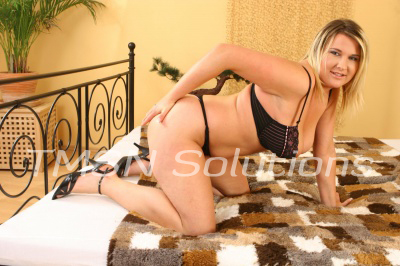 "Juicy" Jody 844-33CANDY ext 332
Pegging and humiliation is not something that I was familiar with until recently. I knew the term pegging, and I knew what it meant. That was as far as my knowledge went. However, recently I found out that, while working with a sissy, I really enjoy the control that comes with pegging and the fun that comes with the humiliation afterward/during. So here's the story of my first time.
It started simple enough. I dressed you up really, really pretty. And you were a good sissy and modeled your clothes for me. I asked you to do a twirl, and then play with that sissy clit for me. I loved every minute of watching you, but I didn't want to wait anymore.
Pegging & Humiliation
I put on my 9.5 inch, hot pink strap on and told you to lube it up for me. You immediately listened and got on your knees, taking it into your mouth, making sure it was nice and wet from your sloppy blowjob. And then I told you to bend over. Squealing with delight, you again followed my orders.
I slid slowly into that tight ass, making sure to be gentle (at first). Hearing your moans of pleasure just made me want to go faster, but I have self control. I slowly pull out, and then glide back in – I've put lube on my strap on now, so it glides effortlessly. You're being a greedy sissy slut though – pushing backward like you want every inch of this toy. Well not yet. That's not how a good girl behaves.
I grab your hips now, getting greedy myself, and slam into your ass – hard. You whimper. I don't know if it is from pleasure or pain, but either way, it eggs me on. I keep going, harder and harder, deeper and deeper. You're moaning wildly now, not caring who can hear you. And, like a good slut, you ask me if you're allowed to cum.
I agree, but it has to be in your hand. I'll tell you what for in a minute. All of a sudden, you cum loudly, screaming out my name (which I LOVE by the way). I pull out of your ass, and tell you to rub the cum in your hand all over this big toy. Surprisingly, you listen without any issue. And then I tell you to suck your cum off of it.
This is the humiliation you told me you wanted. You wanted to have to cum and then have me make you do something with it, so I am. I am gonna make you lick it all off of my girthy strap-on. You put it tentatively into your mouth – not good enough. I quickly grab the back of your head, and before you can object, I'm fucking your throat and making you taste every drop of cum you just rubbed all over the toy. Tastes good, I'm sure. But, I can tell that you're humiliated with this experience, and that makes it that much better for me.
When I decide the cock attached to my belt is clean enough, I let you go, and you pull off – coughing like I wasn't letting you get enough air. We're done now. You can sit there in your humiliation – the taste of your own cum on your tongue.
https://phonesexcandy.com/jody
https://sinfullysexyphonesex.com/jody
844-33CANDY ext 332