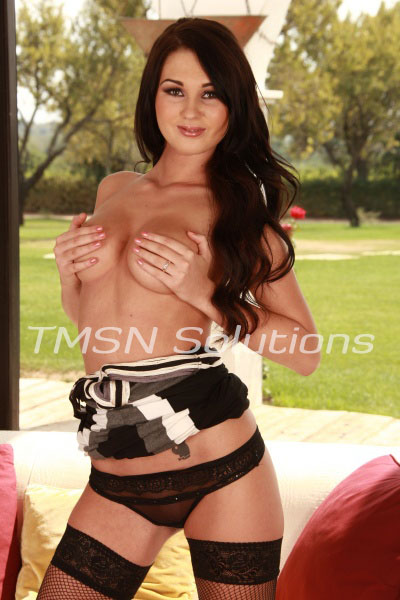 What's the first thing you notice when you look at me? Is it my long, dark hair or my sweet brown eyes? Some men notice my long, toned LEGS before they notice anything else but not you, huh? I know what you see first. Your gaze is locked on my perfectly PERKY TITS.
No matter what I'm wearing, you can't help yourself. Above all, you notice my tits first. I watched your eyes bounce from my face back to my LUCIOUS CLEAVAGE. I can see right into that PERVERTED mind of yours. I know you are undressing me with your eyes and imagining what it would feel like to squeeze my BREASTS in your hands. My hands are so small, making them more than a handful for me but they are no problem for your big hands.
Soft, Firm Flesh
Close your eyes, handsome and imagine feeling these round globes of flesh in your big palms. Can you feel my tiny, rose-colored NIPPLES pebbling under your touch? Do you want to pinch them? Give them a tug? Mmm, please! You know I love the way it feels when you twist my rock hard nipples between your thumb and fore finger.
Lean in close and INHALE ME. Smell the sweet scent of my body wash and the lingering hint of my arousal as you turn me on with your talented fingers. Purse your lips and press them against my smooth, satin-like skin. You want to taste me, don't you?
Open those lips and let your tongue bathe my flesh. Cup my BOOBS in both your hands and push these perfect flesh bags together. I want that tongue to wash over both my tight nipples.
Now Open Your Eyes
Please, watch me. Watch the way my back arches into your touch and the way my thighs tremble in anticipation. Look over the way your touch makes goosebumps rise across my chest and down my arms. My body is so responsive to the way you handle me.
Next, I want you to take your cock out. It's been throbbing and tenting your pants as you've teased my tits. Then, I want you to push me to my knees and make me hold my boobies for you to FUCK MY CLEAVAGE. Mmm, yes! Feel the way my precious tits suffocate your dick. Push it through them, baby. Pump it up and down while our eyes get locked on each others. That feels good, doesnt it?
I love when you TITTIE FUCK ME. Call me and let's get started.
Sweet Lovin' Kayla Cumsalot
1844-332-2639 ext 357
https://www.sinfullysexyphonesex.com/kayla
https://www.sinfullysexyphonesex.com/kayla/